How a locked door showed the right way
Thanks to "Mother Myrow"
In the anniversary year of the Schoenstatt Women's Movement, I was able to talk to some of my fellow sisters about this topic and publish it here on our website.
This exchange of ideas enriched me and made me grateful that I too was able to find the Schoenstatt Movement.
First and foremost, I would like to thank a Schoenstatt Mother who proclaimed the spirituality of Schoenstatt and built groups in my home town with tremendous vigor and almost limitless commitment: Mrs. Anna Myrow. Simply called Mother Myrow by many!
How a locked door showed the right way
I met her in the parish library when I was nine years old.
A few months earlier we had moved from one part of the city to another in my hometown. In the middle of the school year! It wasn't so easy for me: new classmates, new teachers, new surroundings…
Since I was – and still am – a bookworm, a classmate wanted to show me the big city library. I was very happy, but then I was so disappointed when we stood in front of closed doors.
Fortunately, it occurred to my classmate that there is still a parish library. And so we continued on our way.
This library was also pretty big, in my opinion. And all the books made my heart beat faster. I signed up with an older woman and was able to choose two books for free. I remember all of that very well!
When I registered the books with her on my library card, of which I was very proud, she asked me whether I would like to join a group of girls.
What? A library that also has a girls' group? That's great! And I was happy to say yes.
And so began – totally unspectacular – my path in the Women's Movement in Schoenstatt.

Schoenstatt – an apostolic movement
The parish library was one of Mrs. Myrow's numerous apostolic projects.
At that time I did not know this expression, but through Mrs. Myrow I learned on my way through life that Schoenstatt is truly an apostolic movement.
In addition to the weekly group meetings, which she held herself at the beginning, in order to then hand them over to "junior staff" as quickly as possible, I got to know a wide range of possible ways of helping: helping in the parish library, visiting sick and old people, doing handicrafts for our annual handicraft exhibition for the benefit of the mission station in Burundi, praying the rosary and other devotions, design of parish family evenings and so on!
Mrs. Myrow had a knack for assigning tasks and slowly increasing them. I still remember that it was my first "service" in the group to light the candle and put it out again.
Schoenstatt quickly became my only "hobby". I just didn't have time for anything else! And I was very grateful to my parents for giving me this leeway.
Become a Sister of Mary?
Becoming a Sister of Mary was an intense decision, but it was somehow obvious–because Mrs. Myrow kept telling us quite openly that it would be nice if one of us became a Sister of Mary. So it was a "hot option"!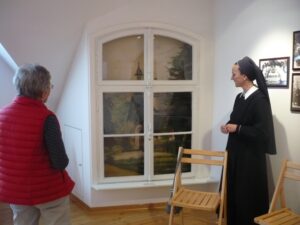 When I later worked in the Schoenstatt Movement for Women and Mothers, I should – had to – be allowed – to help shape events in which Mrs. Myrow took part. Her assurance: "You don't have to be afraid. I'll sit at your feet" didn't really add to my calm.
In 2004, on the feast day of Our Lady on Mount Carmel, Mrs. Myrow was allowed to go home to God at the age of 95. She had longed for the day, although she was still as active as she could until the end.
I found out about her death when I was at a Schoenstatt Center for "Women's Day". That fitted so well!
Through Mrs. Myrow I got to know and love the Schoenstatt Movement. And now I was able to give something back to the community of Schoenstatt, to which it had belonged.
And that is also my wish in this 100th anniversary: ​​That many women may experience the life-giving power of the covenant of love and pass it on through their being and work. And that many people can experience that locked doors don't have to be the end, but can be a completely new beginning. Because God is behind it!