In this year, when we celebrate 100 years of the first women in Schoenstatt, we are invited by our founder to look at the person of

Sr. M. Emanuele Seyfried
"an excellent case of womanly wisdom", "exceptionally noble, extraordinary elegant, extraordinary". This is how Fr. Joseph Kentenich identified her when she was elected General Superior in 1967. A Schoenstatt Father, Fr. H. Alessandri) also testified: "She was an extraordinary woman who embodies the extraordinary female values ​​that Schoenstatt gives to the world".
Just these brief statements about Sr. M. Emanuele as an extraordinary person can convince us that her personality has something to say to us in this 100th anniversary year of women in Schoenstatt. After Fr. Joseph Kentenich's characterization, let's look a little deeper at the model of women that our founder was proud to offer the Church.

One of the pioneers in Brazil
Sr. M. Emanuele, Elisabeth Seyfried, born on April 19, 1905 in Rottweil, Germany, entered our secular institute of the Schoenstatt Sisters of Mary on July 1, 1932. Soon, after three years, she accepted the invitation to be sent to Brazil as a missionary. She was one of the 12 pioneers our founder sent to build Schoenstatt in Brazil. On June 10, 1935, she arrived in her "new" home.
She worked as a novice and tertianship mistress for various courses until the founder appointed her provincial superior of the Tabor Province in 1950, at that time the only province in Brazil with its seat in Santa Maria / RS.
Sr. M. Emanuele was Provincial Superior for 17 years before she was appointed Superior General of our sister family. This was the reason that brought her back to her home country, Germany.
What was her secret?
As an example of Mary, Mother of Sorrows, she was characterized by her strength, loyalty and broad spiritual motherliness in the difficult years that the Schoenstatt Work went through during the exile of the founder. She was a council sister, spiritual guide and support for many people, including seminarians and priests, in this critical time when Schoenstatt in Brazil was truly in the shadow of the glorious cross of the Lord.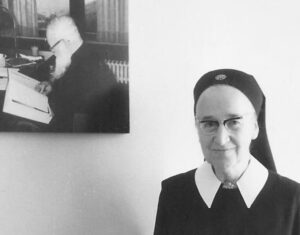 Sr. M. Emanuele stood true to the person and charisma of the founder, Fr. Joseph Kentenich. From the beginning she was deeply connected to him. Therefore she knew how to act in all situations and to lead the sisters' Family and also the Brazilian Schoenstatt Family in faithfulness to the charism and the "mens fundatoris", or rather: in the thinking of the founder.
Fr. Hernán Alessandri testifies: "Everyone who came into contact with Sr. Emanuele felt at home. We experienced this during the difficult years of 1959 and 1960 in Brazil. She was a peaceful pole. Close to her, each of us felt at home, valued, and cheered up. Not even the local bishop, who was not well disposed towards Schoenstatt, could rob us of this influence. Sr. M. Emanuele knew how to pass on through life and how to conquer people because she was deeply anchored in God. "
The strong woman, who will find her? (Pr 31, 10)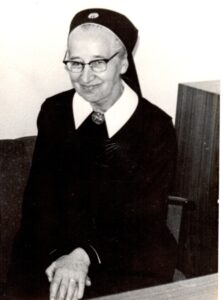 Father Jaime Ochagavia, from Chile, also testified: "… Sr. M. Emanuele was a person who did not force anything on anyone with what she said, but only wanted to offer, hand over, give. I would say that tactfully and with this fine feminine feeling, she did not impose anything, but offered something, with great awe and with a lot of empathy. I would say she exuded respect, awe, and seriousness.
Her simplicity is trust. Trust in the father and founder, in Our Lady, in the shrine, trust in God. It wasn't trust based on other skills or tests. It was total trust that the Blessed Mother wins, that the Blessed Mother will win. This was what she radiated.
Her person was transparent. (…) She was a person with a very clear attitude towards the truth. What is true is true; what is not true is not true. (…) Therefore she awoke in others a lot of awe and without coercion. A person who sought the deep truth.
(…) On the other hand, I would say a very smart person! She possessed a true mysticism, clever, reverent, sensitive, simple, respectful. (…) Everyone who knew her, who heard her, thinks she is holy; not only holy, but a special saint. She is a role model, role model for the Schoenstatt woman, role model for the Schoenstatt Sisters of Mary. An example!"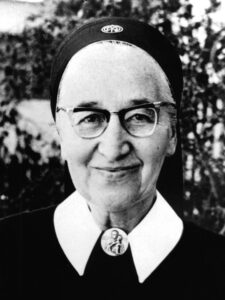 Also Mr. Hermann Arendes, superior of the Marian Brothers in Brazil at the time of the exile of the founder, said: "If the Holy Scriptures asks: 'A strong woman, who encounters her?' I would say that this applies to Sr. M. Emanuele. Really a great woman …"
As we can see, the personality of Sr. M. Emanuele shows the ideal image of the authentic Marian woman, just as Fr. Joseph Kentenich wished to give to the Church in order to respond to the great crises of our epoch, especially those regarding woman.
Let us ask that the Blessed Mother continue to form great women for the religious and moral world from her shrines. That is why we would like to get involved and pray the simple prayer from Heavenward with our father and founder:
"Let us walk like you through life,
let us mirror you forever,
strong and noble, meek and mild,
peace and love be our endeavor.
Walk in us through our world.
Make it ready for the Lord."