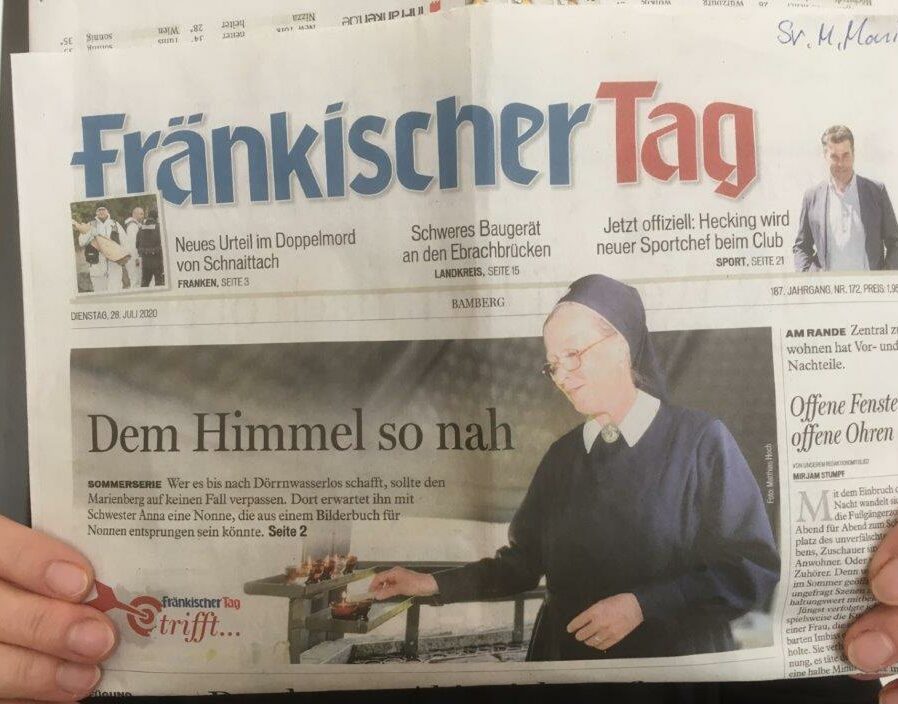 … This is how the journalist Christoph Hägele describes one of our Sisters of Mary in the
newspaper "Fränkischer Tag".
How did he get there?
The summer series 2020 of the newspaper wants to let people from different villages and cities in the country have their say and show how they live, what moves them, what their everyday life looks like.
The method for doing this: A large map of Upper Franconia is attached to a wall. The reporters throw darts at this card. In the vicinity of the feast of St. Ann the arrow hit the small village Dörrnwasserlos (directly below the Marienberg Schoenstatt Center). So Dörrnwasserlos was visited and people on the street were interviewed. Mr. X. said to the reporter at the end: But you absolutely have to visit Marienberg! – Because he drinks his beer up there every day.
How does the reporter experience this Schoenstatt Center with only one Sister of Mary? He says:
So close to heaven
"If you can make it to Dörrnwasserlos, you should definitely not miss the Marienberg. There, Sister M. Anne Rath, a nun awaits him who could have sprung from a picture book for nuns…
The dark memories of the fear of war and anti-aircraft missiles cannot compete with the beauty of the place and its peace (Marienberg is a former NATO site). Butterflies, flowers, bees, sun, wind, forest, clouds: the Marienberg makes a string vibrate even in people who are insensitive to religion. And in the middle of it all, Sister M. Anne. A nun as everyone who means well for the church would imagine a nun:
Warm – radiant – resolute….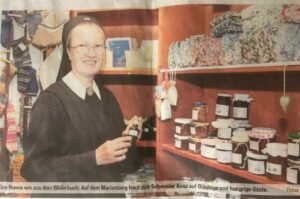 Anyone who feels a need is allowed to visit her on the Marienberg. He can talk, cry and light a candle. If you are in the mood for community, for cake, coffee, specialty or beer: You can just as easily go up to the Marienberg …"
In the village of Dörrnwasserlos "- unlike up above in the idyllic Marienberg – nature reveals itself in its dazzling ambiguity: It is pure happiness and something threatening at the same time." In this small place "there is no bakery, no snack bar, not a single shop. Anyone who is looking for sociability in Dörrnwasserlos or even just a cold beer should go to Sister Anne's on the Marienberg.
Because "all roads lead upwards".