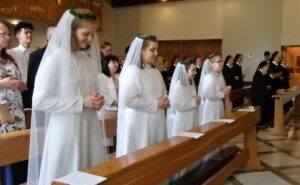 On Saturday, June 20, 2020, in the Provincial House of the Schoenstatt Sisters of Mary in Otwock / Poland,
the reception celebration
– the handing over of the sister's dress – to four novices took place.
The young sisters eagerly awaited this moment. Therefore, despite the restrictions associated with the Corona crisis, it was a day of great joy for them that radiated to all participants.
The solemn Holy Mass was celebrated by Father Arkadiusz Sosna, superior of the Schoenstatt Fathers' Community in Poland. With him three priests also celebrated this Eucharist: Father Mirosław Żabnicki – Schoenstatt Father, Pastor Jan Śmigasiewicz – from the local parish and Father Józef Pociask – chaplain of the community of the Provincial House.
The parents and siblings and the sisters of the provincial house took part in the joy of the novices. In order for other relatives of the novices and the sisters from other filiations of the Polish province to witness this special event, there was a live transmission over the Internet. (Video here)
In his sermon, Father Arkadiusz expressed above all the joy that these four young sisters, with the acceptance of the sisters dress – the visible sign – broadened the circle of those who want to testify in their lives that they belong completely to God. He addressed the parents of the novices with thanks: that they have benevolently accepted the gift of the calling their daughters. He also emphasized the truth that every calling is "from the people and for the people". It is a sign of the election, but also of a mission that the appointed person should fulfill. The celebrant encouraged the novices to trust even more in the power of God's grace and in His guidance in their lives.
After the sermon, the ritual of reception took place. The sisters received the dress of the Schoenstatt Sisters of Mary and a new name. It is a sign of "putting on a new person" and beginning the new path – in the followings of Christ and his mother Mary.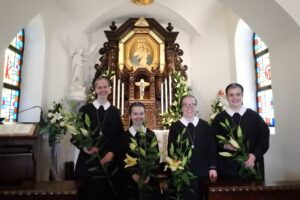 The new names of the novices are:
Sister M. Ignacja Prusko
Sister M. Rozalia Kopka
Sister M. Józefa Pukiel
Sister M. Jadwiga Żołek
After the liturgy ended, the young sisters went to the shrine to give their lives again to the care of the Blessed Mother and to ask God's blessings for their new path.
In the words of Our Lady – together with our novices – we praise God for the great thing He has done to us:
Magnificat anima mea dominum!