This difficult time of the pandemic creates a field that we Christians can rediscover for sowing.
Due to the onset of the corona crisis, my previous field of work, group work with women and mothers, was unfortunately stopped. It was clear to me that there could be no standstill for my Schoenstatt apostolate. So I looked for a new way.
I decided to put my apostolate on the street. I found Dr. Hartl's "Prayer in the Corona Crisis" suitable. In the evening I put this prayer in the mailboxes, during the day I pass it on in a personal meeting on the street … especially in the shopping centers, at Aldi, etc.
Taking the security measures into account, I show the back of this little prayer on which I printed the sentence:
"A drug with a recommendation"
and then point out the "Prayer in the corona crisis".
I am very touched by the honest openness and receptivity I experience! Many ask me for more copies to share. In the midst of fear and worry, prayer has become like a lifeline that people like to hold on to again. Getting people out of oblivion to God and leading them to a new encounter with God is an apostolate in this time of crisis!
Summarized from the short conversations, there is an insight, or even a confession, such as:
– "The way things are between us, it can't go on …"
– "… we have all become selfish, everyone thinks only of themselves … "
– " Always more, more, where's that going? "
– " I just have to cry, just cry, because everything is like this now "
– " God has been forgotten "…
– " As much as I do praying at home now, I haven't prayed for a long time. "
– " Good thing you do that, you're a sister for that, I thought so. Give me this prayer, I will pray it …"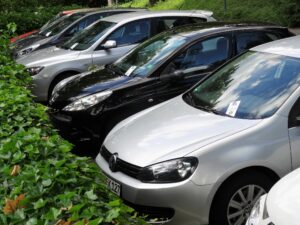 I also get positive feedback from doctors. New apostolate ways are emerging again, through which we bring people into dialogue with God.
A good way to share this prayer is with the wipers on the parked cars.