Missionary sister Marione Ginter
reports on the effects of the corona virus on her work.
After the newspapers reported that there were more than 1,000 corona virus deaths in Brazil within a day and the state of Sao Paulo now has more corona deaths than China, a number of Aichhalden citizens worried about Sister Marione. After all, the capital of this state with more than twelve million inhabitants is only about 50 kilometers (34 miles) from Atibaia, where the sister, who is now 83, has been doing missionary work for 58 years.
As she explained to the Black Forest Messenger on Skype, Atibaia, which has just under 130,000 inhabitants, has so far largely been spared the corona virus. However, there were strict regulations. The residential complex just outside of Atibaia, where she lives with almost 70 sisters, is only allowed one person a day to leave for shopping in the city or for an errand. In the meantime, they bake their own bread.
They are not allowed to receive visitors, and pilgrims are not allowed to come at the moment. "But we are very lucky that a priest lives here and is not allowed to leave because of Corona."So "there is a holy Mass for us every day," which Sister Marione feels is very fortunate and gives her the certainty: "God does not leave us!"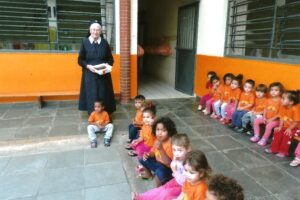 Because of the restrictions, she had to reorganize her missionary work. For 24 years she has been looking after a daycare center in a poor district with around 230 children aged three and over. She once planned and built this center. There the children are looked after during the day and brought up in a Christian spirit. The families of these children are sometimes very poor. She knows many of them personally.
With the money donated from home, she can buy groceries and distribute them to the poorest. Now that this is no longer possible, she compiles a list for food parcels, which she leaves in the market with the addresses of these people. The people in need could then pick up this package there. The sisters pay the bill, around 1,000 euros a month. "I still add everyone up in my head. The fact that I can do it so well certainly has something to do with the fact then as children they used to play math games with their father," she smiles.
Grocery packages can also be given out in the daycare center. The sisters' home and the day care center remained closed until the end of the month. Nobody knows what will happen next. "If there is no easing soon, more people die of hunger than of disease here," Sister Marione fears. Therefore, the day care center still depends on donations from home.
(based on an article in the Black Forest Messenger dated May 22, 2020)