Video, the most watched medium on the net,
is the future. Last but not least, during this corona period most people watched something – it could not be avoided. So why not use this medium to pass on something of the Christian faith, the spirituality of Schoenstatt, art, everyday life and faith to one another. Something like that, Sr. Anrika Dold and Sr. Francine-Marie Cooper have been talking about more often lately and trying to make an idea come true that, admittedly, sounds a little crazy: start your own YouTube channel.
More than a crazy idea
Most of the time the conversation ended with: "Should we really do this?" – "Yes, why not?" – "Let's just try it!"
The time has come on May 31, 2020. The YouTube channel: "Beyond the ordinary – Christian art of living" goes online. A Christian lifestyle and educational channel that offers inspiration for thinking and tips on very specific questions. The two sisters take the audience with them in their everyday lives, let them listen to conversations and explain a lot.
One camera, two sisters – "and action!"
"We want to use social media, especially YouTube, but also Facebook and Instagram, to talk to others about various life issues. Discovering God's messages in the middle of everyday life and finding an answer to them is what appeals to us,"said Sr. Francine-Marie about the goal of the channel. And Sr. Anrika adds: "We are interested in hearing from people themselves what their questions are and what they want to hear about from us. That should continue to develop."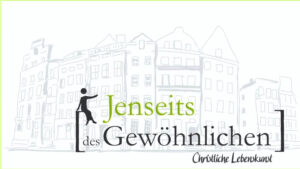 A YouTube appearance, conceived, scripted, executed and edited by two women who lead a consecrated life in community, is currently not to be found online. So far there are only a few German Christian YouTube channels and none at all with sisters.
How it started
As a final project of her studies at the FH Aachen (communication design, design department), Sr. Francine-Marie had created a concept for a YouTube channel and some pilot episodes in spring / summer 2019. Sr. Anrika gave her very specific support.
Going online with this concept, which has been in progress for over a year, is actually a project "beyond the ordinary". But as the saying goes: "If you don't dare, you can't hope." (Schiller)
From the end of May, YouTube, Facebook and Instagram will be able to see and hear some "beyond ordinary". Curious? Then just have a look here.