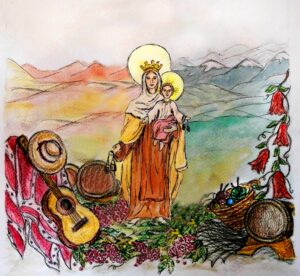 During this time the Schoenstatt Sisters of Mary published their fifth
album of religious songs.
It is a "Chilean Mass" for the important moments of the Eucharist. Juan Carlos Tedeschi, musician and manager of important music groups, commented:
"Musically, the CD is an interesting journey through the rhythms of different regions of Chile, masterfully worked, with a rich and full sound, with impeccable instrumental and vocal interpretations that give it a unique and unmistakable color; an excellent professional work. The compositions are by Sister María Inés Errazuriz and the choir is conducted by Valentina Varas."
The youth sings the songs with enthusiasm. They are songs that have spread in several countries.
The above mentioned titles and themes are:
– Rejoice, Mary
– Come with your fire
– In Bethlehem
– I come to meet you.
All titles are available on Spotify.
Under iTunes here.