Sister M. Isentraud Mainusch
came to Chile in 1949 as a missionary sister.  She worked in our schools in Chile. In 1969 she went to Spain; there she worked in the "German Catholic Community" and gave religious instruction in the German School. After thirty years she returned to Chile, where she spent her retirement. At the age of 101 she still had an alert mind and did some work on the computer. She was a sister who was an example to us both for her human qualities and for her deep religiousness.
In Spain and Chile, people remember her constant cheerfulness and sociability. In everything she saw the positive and encouraged other people. Father Kentenich once told her that her mission in life was joy. This word guided her and she powerfully carried all the difficulties.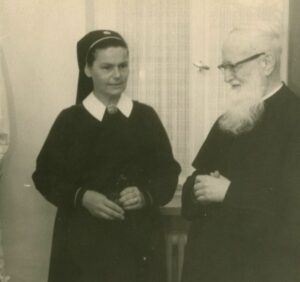 It was a joy to share daily life with her.  She was a sunshine because of the way she was: free, spontaneous and compassionate.  She sang very well, played some instruments, and thus gave joy in community life. She had beautiful encounters with Father Kentenich and she loved to tell about him.
She was very attached to our Shrine. She was a witness of historical moments in the Cenacle Province in Chile. She was able to participate in the blessing of the Shrine of Bellavista, in the crowning of the MTA and in the mission on May 31, 1949.
With her course of Sisters she consecrated herself to the Blessed Mother as the great Adorer of God. Her favorite prayer, which she prayed several times a day, was
"Loving rich Majesty, I am your own.
Every desire of my heart
shall be silent before you.
I want only one thing,
to be with you always."
This is a prayer Father Kentenich wrote in the Dachau concentration camp.
That was her life, to live with the Triune God and prepare joy for others.