"We experience the Austrian Schoenstatt Family as near as never before."
With these words a family from Lower Austria expressed their gratitude after our
Illuminated Rosary,
which we prayed during Holy Week here in the Shrine in Vienna and which was transmitted online. It was possible to send petitions in advance and we were amazed at how many petitions we received within a few days. It was a moving, beautiful rosary of lights, as many of the echoes show.
And what was also beautiful: You could see who was connected.
"48 Houses of the Holy City"
were with us all the time during our Illuminated Rosary in the Shrine.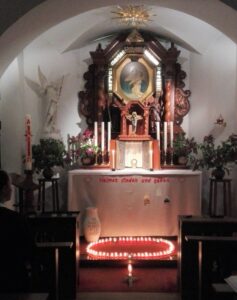 A woman thanked us: "First of all, thank you very much for the invitation to today's Illuminated Rosary! It was beautiful! To be so close from home to our Austrian Shrine, and to be in community with the many families, is a special experience! Thank you to everyone who participated!"
From another couple came the feedback: "A very spirit-filled and personal evening directly with our MTA – many thanks!"
On this very evening we received the following response: "This should be done every week now!"
A few days later we received requests for the next Rosary – for us a hint with a fence post. Our IT specialist was also able to be present. He reported back: "Sound quality good: 95% – light 85% – atmosphere super: 100%."
Also for us Sisters, the shrine has become more precious than ever before in this Corona time. Here we can follow online all the services that are being transmitted. Our Schoenstatt Movement organizes a Mass every Sunday with Father Felix, Schoenstatt Father, who lives near St. Stephen's Cathedral. Families and individuals are involved in the organization. And at each Mass, the shrine is displayed. We are aware of the great task that we represent the entire Austrian Movement here in the shrine at Kahlenberg/Vienna in Austria.
The following echo expresses how moving this is for some:
"It was very moving to hear the bell from the shrine during the Gloria on Holy Thursday."
A young person said: "That was beautiful!"
And the following testimony also expresses something that we find very enriching: "Through us, you put together stone upon stone … – it is like putting stones together to build together, when it brings in a family from Salzburg with the reading etc. It shows – actually for the first time – how networked we all are."
A family man said during the online rehearsal for the Holy Thursday Mass, during which he recited the reading from his home shrine, when he saw the shrine online: "Seeing the shrine and being there in this way is especially valuable for those who live far from the shrine. Thank you for making this possible."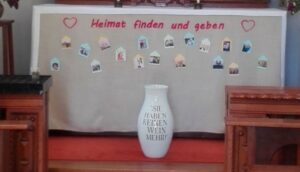 From this experience, we Sisters had the idea of inviting the Schoenstatt Family to send a photo in May to be represented here in this way. We attach these photos to a border with the inscription "Find and give home". In this way we will also be reminded to pray for everyone and to represent them here in the Shrine. Visitors can also write their names on a "house", which we will also attach to the border.
A beautiful sign of attachment! So I would like to conclude this report with an echo:
"I think this is a great gain from this time."