Sister M. Erintrud Thomé,
born in 1921, first remembers dates that are important to her during this Easter period 2020:
April 12, 1894 consecration of our father and founder to Mary in Oberhausen
April 12, 1931 My First Communion
And then she described her experiences and impressions of this special time, about her first spiritual pilgrimage to the Original Shrine via the Internet:
"There was Covenant Day on April 18, 2020:
Like every day that God's googness give me,
for many, many years now, my first "work" in the morning is to pray the joyful mysteries of the rosary in the shrine for the international Schoenstatt Movement.
The little shrine here in Borken is being restored, so today my stop is in the "historical place", the former house chapel of our provincial house, where our founder celebrated Holy Mass more than 20 times in 1966.
Two fellow sisters came. They wanted to prepare and try everything for the transmission in the evening from the Original Shrine. And they succeeded. They had the Original Shrine in view and invited me to change places so that I could pray the Rosary spiritually in the Original Shrine. And it happened like this. I am grateful for this sisterly love and attention.
Whether someone can imagine how an old person feels who has not been able to visit the Original Shrine live for many years –
when he suddenly
yes, in the picture,
and yet truly in person,
unimaginable, unbelievable,
not to see ahead,
unspeakable,
is suddenly where the longing has been heading for years?!
Just to be there, to feel the dear God, to experience the help of the dear Blessed Mother, and this in the worldwide Corona crisis.
To see what love gives me in subtleties, in inwardness and attention. And how often the Blessed Mother has offered me gifts of thanksgiving in the past years!
I was simply there – and I look …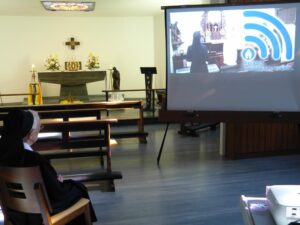 I was at home
I see the eye of the Father shining over the whole world in the original shrine
I see the crown of the dear Blessed Mother, which our Father and Founder gave her on December 10, 1939, with the request for her blessing in this terrible time;
I see the crucified Savior who calls us all: "Follow me!" when difficulties threaten us.
To the left of the altar I see St. Michael in his war armor,
I see Vincent Pallotti on my right.
In spirit, I see our Father and Founder kneeling at the steps of the altar on May 20, 1945.
And today I see a priest praying in the pews;
and then a young woman watering the flowers, four yellow and four white on each side, set in beautiful harmony;
I see where she gets the spare water from, because the watering can is already empty. She cleans up.
A gentleman with red hair – he wears a breathing mask – puts out the candles, five on each side.
I see two Sisters of Mary – kneeling far apart.
Yes, I was at home, looking forward to the evening when the Covenant of Love was to be renewed in the Corona Crisis after Holy Mass."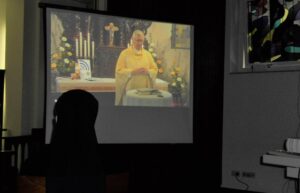 "Blessed Mother, here I am with my crown,
accept me for all the difficulties
that arise worldwide in this Corona crisis."