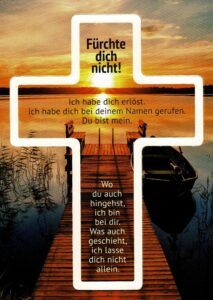 The Corona virus has us in its grip. Also in our
Schoenstatt House in Meppen, Diocese of Osnabrück,
there have been no events for several weeks. The cancellation of the reflection afternoon on March 24th was especially painful for us. We had invited a young Schoenstatt priest from the Diocese of Münster to be a speaker, and two weeks before, there were already more than 60 registrations.
As place cards, we had obtained cards with an illuminated cross. Now they lay unused in the cupboard.
At the end of March we thought about what we could do for our fellow men in this Corona crisis. Soon we decided to send this card with the illuminated cross and a letter to our local contacts, to the visitors of our house and shrine, and to many others. We found the wording of the cross very appropriate. It reads:
"Fear not.
I have redeemed you.
I have called you by your name.
You are mine.
Wherever you go, I am with you.
Whatever happens, I won't leave you alone.
A special feature: The cross shines in the darkness. In the accompanying letter, we invited the recipients to a daily spiritual visit to our Shrine and suggested that we pray together for an end to the pandemic. Our prayer proposal: I trust your might, your kindness …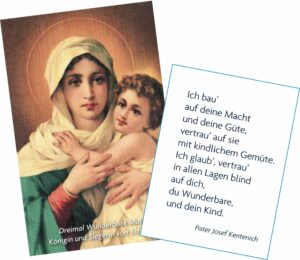 We enclosed a small MTA picture with this prayer on the back. We also included the prayer: "Take the crown, Queen, rule powerfully and be victorious".
And we promised our daily rosary prayed in the shrine as representatives for all.
We were then overwhelmed by the multitude of responses. The Emslanders are actually rather quiet and reserved. Some reactions:
"I have the picture here in front of me in my room. Again and again I take it in my hand. It gives me so much strength.
♥   "The card is in our bedroom. In the dark, the cross lights up and gives me strength to carry it." – Two days later her husband died in this room.
♥   "I love to look at that little Schoenstatt picture and pray that prayer over and over again."
♥   An elderly woman who lives in the house with the young family: "I took the picture with me into the kitchen. We can all enjoy it there."
♥   "The card is so fitting. I copied it for my group."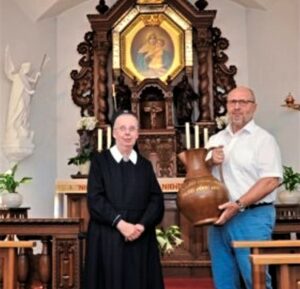 The positive reactions encouraged us to get and send out two more cards.
Even today, after several weeks, letters and calls of thanks still reach us. The people are especially grateful for our daily rosary prayed in the shrine.
We are very happy and grateful that we can give so many people a little light and hope in the darkness of the current situation. The Blessed Mother, our Queen in the Shrine, and our Father and Founder have inspired us to do so. Thank you for everything!