The Blessed Mother has Spread her Mantle Over our School
When we entered the school on Friday, March 13, 2020, we had no idea what challenges would come up in the next few weeks. Still in the morning it had been written in the newspaper that the Ministers of Education agreed not to close the schools in Germany for the time being.
But we experienced first-hand at school how the Corona epidemic was coming:
One student told us that her uncle had gone into quarantine after skiing;
our school secretary's husband had been in contact with a Corona patient.
A father excused his daughter because he too had contact with an infected person and   had gone into domestic quarantine on the advice of the family.
So excitement rose on that day, and when the last ones left school, it was clear that schools in NRW would close.
Fortunately, to this day, none of our students, teachers and staff were or are directly affected by the Corona virus. The Blessed Mother also spread her mantle over our school.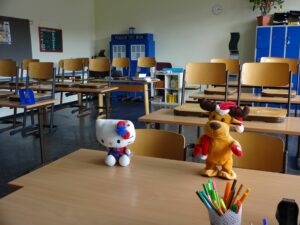 On March16 and 17,  the teaching staff met in the school to prepare the lessons online. A mode of providing the pupils with tasks was established. Each week, the pupils are now given assignments in the main subjects, which they complete at their home desk. They send results to their teachers, who correct them or are available for help. For the lower classes it will continue in the same way after the Easter vacation, because the school will only reopen step by step. It is a great challenge to keep the distance rules in such a small space. A normal school operation can probably not be expected until the summer vacation, our headmaster wrote to the parents.
Despite great uncertainty a strong bond
In spite of the great uncertainty, one can feel a strong bond. It is noticeable that colleagues keep inquiring about the condition of our sisters. We have received greetings from some students, in which many of them express how much they would like to come back to school. Here are some samples:
Hello Sister Heike-Maria, … By the way, you are very welcome to print out the Easter picture and use it as decoration. … X.
(The pupil from the 5th grade not only sent her homework, but also painted an Easter picture, took photos and sent it to me).
Dear Sister Heike-Maria! I am now sending you this week's math homework. I hope you are well and you are still healthy. Everything's fine with us too. I've done all the exercises. It's a strange feeling to have vacation from today on. But my mother thinks we should practice a bit during the vacation because the time is funny anyway. …
In any case, I am looking forward to seeing the school and everyone there again. I wish you happy Easter. It's funny, we made a palm tree for the church. Pastor L. is going to show it on the Internet at the Palm Consecration. We have already seen our service on the internet a few times. But Easter will certainly be completely different. Everything is strange.
Best wishes X.
Hello Sr. Gertrud! How are you? I'm fine. I hope you had a nice Easter!?
In the attachment you will find two photos of homemade Easter decorations. I wish you a nice vacation and stay healthy. Hopefully we will see each other again soon, because somehow I miss school (Hard to believe that I wrote that!). Love X.
Hello Sr. Gertrud! I hope you are well? It's pretty boring without school and friends. But I hope we all see each other again after the vacation. I wish you a happy Easter time! See you very soon! Best wishes X."
Hello, Sr. Gertrude, how are you? Here in the attachment are the questions I have answered. Hopefully you can read everything well. I enjoyed answering the questions! I hope that the virus is gone as quickly as it came. In my spare time, I'm learning how to sew. But I also like to play table tennis with my siblings. Stay safe and sound! LG X."
Dear Sr. M. Bonnie, I hope you are healthy and you are doing well without us girls 😉. I am well and so is my family. I hope to see you after the Easter vacation. It's getting a little boring here, but I'm still looking forward to the vacation! Here everybody is fit!  I wish you happy Easter days and nice vacation!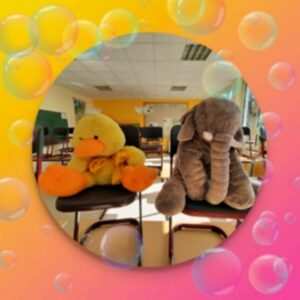 Dear Sr. M. Bonnie, we get along quite well with the tasks, but we also cook and bake a lot. When the crisis is over, we will weigh a lot more…  We wish you a Happy Easter and hope for a new start after the vacation! All the best for you and stay healthy!

Hello Sister Bonnie, I hope you are well.  I miss school and also my friends. Nice to see a picture of Elli and Emil* 🐘🦆. Working from home is not always easy; especially the new material is a bit difficult for me. However, my parents help me with it. In the first week I was still alone during the day, but since yesterday my father is in the office at home and my Mother comes home from work at noon. I hope you'll stay healthy and see you soon. Many greetings also from my parents. (* Emil and Elli are our class mascot)
Dear Sr. M. Bonnie, sorry that I didn't write last week. I really liked the greetings from Elli and Emil. I think going to school is better than working at home, because there I can meet my friends. Working at home is rather boring. I think it's unfair, that my older sister has less work than me; but she helps me with questions. I hope you, Emil, Elli and the plants are doing well.
Hello Sister Bonnie, it's been a week today. I miss you, the school and my friends very much. Only the tests, I don't miss them. I'm doing the homework well. Otherwise I go out in the garden, on the trampoline or play with our dog Mila.
Best wishes and stay healthy!
Dear Sr. M. Bonnie, I wish you happy Easter vacation. I hope you are well, I am actually well. The English assignments for the last three weeks have been really fun. Best wishes to you and the other Sisters! Stay safe and sound. I miss your lessons and your jokes. I have painted a picture here especially for you. Happy Easter. I miss seeing the class and all the teachers. I even finished English in one day. Sincerely, X.
Dear Sr M Bonnie, I would like to tell you something about my "Corona-Vacation" and how I enjoy to learn and work for myself at home. 😉 It is more relaxing to wake up later in the morning and not to go at a fix time to the school. So learning at home is more relaxing because I can do a small break at any time and eat or drink. I`ll switch to German now because it`s Friday evening and I am very tired. 😊 What I am afraid of is teaching me something wrong or not learning correctly. At home it is not as nice to learn as it is at school, because here I learn alone and do not sit in class between my friends. Until then you will get through the week in good health. Have a beautiful weekend and enjoy the sunny weather.