Mary, I want to do something for you!
Sr. M. Linda: Sr. M. Violaine, for a long time now we have been living together here in the Provincial House of the Dynamic Province on Mount Schoenstatt. But my first memory of you is still a few years older. I got to know you as a cheerful, and in my opinion, lively youth sister from the Diocese of Freiburg, who was mostly on the road at high speed. And when I see you today, I have the impression that the pace has not changed that much.
Sister M. Violaine laughs, shrugs her shoulders and says: Well, it has slowed down a bit. The age cannot be denied. After all, I have been a Sister of Mary for 55 years now.
Sr. M. Linda: 55 years! So your golden jubilee is already behind you!
Sr. M. Violaine: Yes, it was a beautiful celebration. And I am grateful to know that I still like being a Sister of Mary and that I would go the way again immediately if I had to choose again.
Sr. M. Linda: Is there something from which you have drawn strength over the years, something like your own personal source of strength?
Sr. M. Violaine: The core experience that marked my life was my first visit to Schoenstatt, to the Original Shrine. I was about 15 years old at the time and I had been in a Schoenstatt Girls' Group for some time. But it was my first time in Schoenstatt. I knelt in the front of the communion rail in the Original Shrine and I looked at the Blessed Mother, just looked at her. It was very quiet in me, I was happy and joyful. It was not looking at a picture, but an encounter with the Blessed Mother. And I thought: Mother –
MTA, I want to belong to you and do something for you.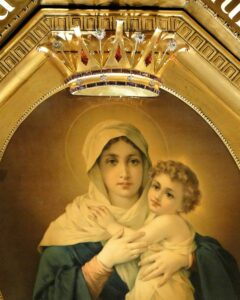 Something like a spring broke open in me, which became a basic current that has accumulated over the years.
Sr. M. Linda: And this current then brought you to the Sisters of Mary?
Sr. M. Violaine: Yes, when I decided to enter, I was still quite young, not quite 20 years old. Today I wonder how carefree I was. I didn't think much about whether I would be able to do that, how it would be in the community. I simply wanted to realize what I had perceived in myself during my first visit to Schoenstatt and I knew: now a new life begins for me to which I say completely yes.
My reception was a profound experience for me. That is why every year I consciously celebrate this day. I have a small photo of me in my white wedding dress. That is then put up.
Sr. M. Linda: I think that this is certainly more than just reveling in beautiful memories.
Sr. M. Violaine: Of course! It is an encounter with the Blessed Mother, just like in the Original Shrine.
And I tell her: what I said then is still valid!
Sr. M. Linda: Although you are not as carefree now as you were then.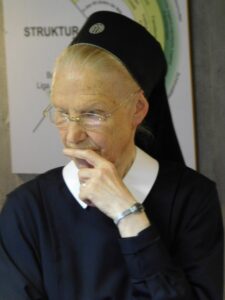 Sr. M. Violaine: Yes! But that belongs to life, to every life. And it would be terrible if we Sisters of Mary didn't have to carry our little load as well.
I fondly remember the word of a Schoenstatt Mother. She had given herself to the Blessed Mother in the Blank Check, which means that we say yes to everything that God has planned for us on our path of life. This woman was able to say yes in certain life situations:
"Blessed Mother, it doesn't suit me at all. But it's still the same."
Sr. M. Linda: That is clear and plain. And that says it all.
Sr. M. Violaine, you have already gone through many stages of life and many tasks. As I said before, you were a youth sister, then a mothers' sister. Then you were the director of the Marienland Educational Center, the main person responsible for the Schoenstatt Movement of Mothers and Wives in Germany, and finally you were Superior here at the provincial house. Several decades have passed since then, years in which your yes has accumulated.
Today you are still working in the Marienland Educational Institution in various areas such as reception, laundry, sacristy.
So nothing about a well-earned "retirement"?
Sr. M. Violaine: Thank God it is this way. I enjoy spending my time and energy where I am needed. I like to think of the word from the Holy Scriptures: "What I have, I give to you. (cf. Acts 3:6). I gladly give what I have. But I also take the liberty of saying: what I do not have or no longer have, I can no longer give. And I stand by that.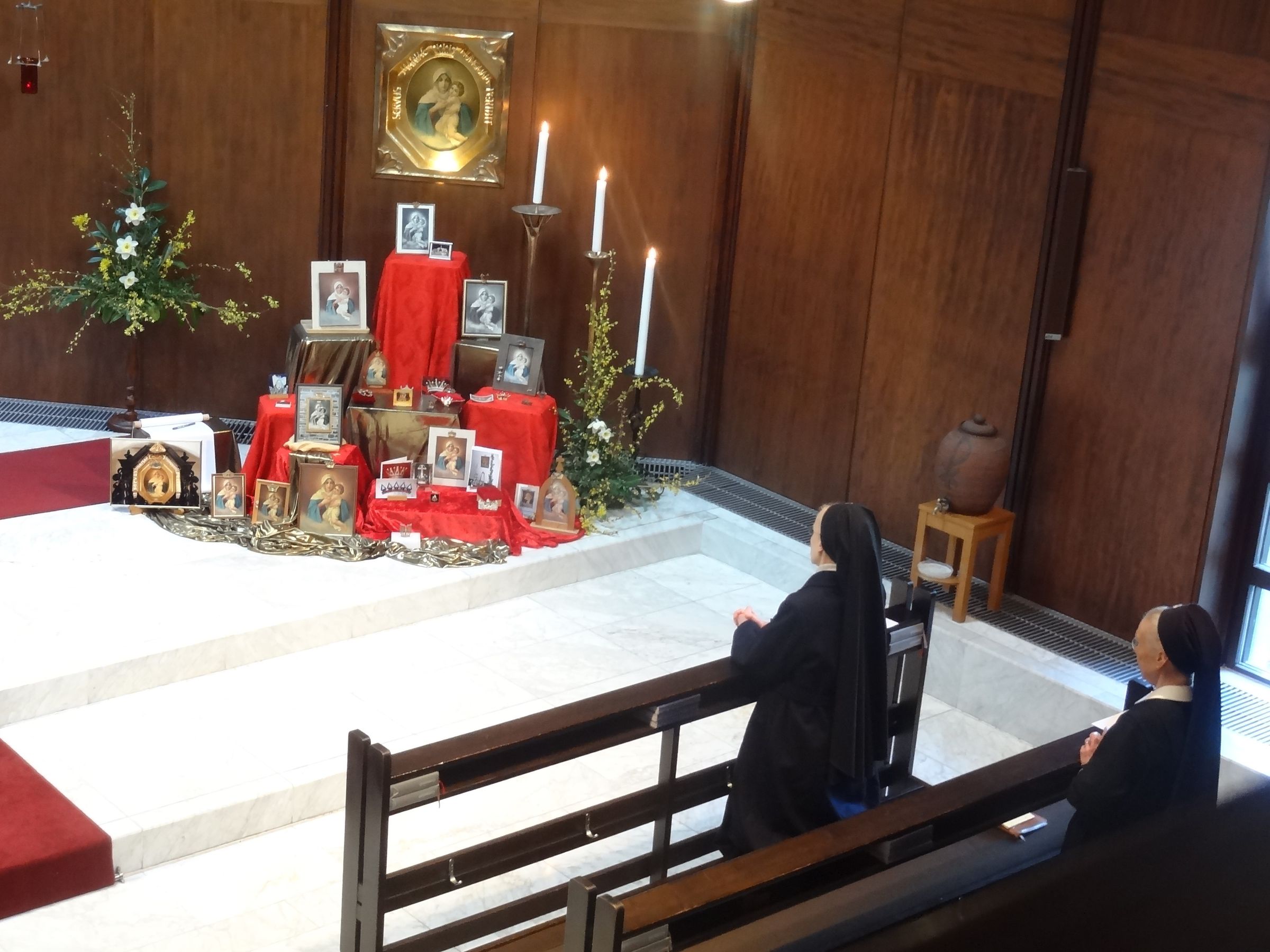 Sr. M. Linda: Sr. M. Violaine, you have worked so long in the Schoenstatt Women's Movement. What is your wish for the 100th anniversary?
Sr. M. Violaine: I wish that in the Schoenstatt Shrine in their encounter with Mary the women would experience the vitality of this Woman, that they may, so to speak, stand on a personal relationship with her in a really good way.
I am convinced that our spirituality helps women to develop good self-confidence and from this, shape their lives.
But I also wish that women experience more and more in their environment, that they are appreciated for what they are and what they do.
That is what I pray for and
that is what I include in my commitment here at the Marienland Educational Center.