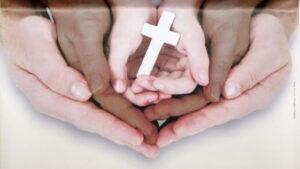 At the beginning of Lent, a Commission for the Help of Minors was set up in Rome and in some dioceses around the world.
It is intended as a response to the call of the Holy Father Pope Francis in his letter Motu proprio
"Vos estis lux mundi" (You are the light of the world)
of May 7, 2019, which contains the new measures for all the dioceses of the world in the fight against and prevention of sexual abuse by Church officials on minors and defenseless persons.
On Ash Wednesday at 5:00 p.m., a special commission to help children, young people and defenseless persons was established in the archdiocese of Porto Alegre/RS-Brazil, and the commission immediately began its work in the archdiocese.
The Schoenstatt Family is very happy because a Sister of Mary is present, Sister M. Denise Mendes Ternes. She belongs to this commission as a secretary and psychologist, and she also understands her task as Schoenstatt's commitment to the Church.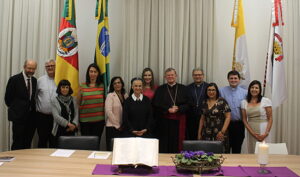 In this interview Sister M. Denise explains her mission to us:
How do you feel about your mission in this commission?
I consider it a great privilege to participate in this commission. It is a mission that the Sisters' Family entrusted to me. I feel called as a representative of the Schoenstatt Family to contribute with the Church and to respond to what the Holy Father Pope Francis wanted through these commissions, to face the situations of abuse that we experience in the Church today.
To be called to work in this Commission here in the Archdiocese of Porto Alegre is a great challenge, but I repeat, it is also a great privilege. Here I can do something of what our Father and Founder, Fr. Joseph Kentenich, always wanted: to serve the Church selflessly. Because we are founded as a Movement to work and give our best in the Church and society.

How can Schoenstatt help in this mission?
It is not news that the Church is involved in the situations of the world in our time. She is not immune to all the sufferings to which society is also exposed. We know very well that these situations are the fruit of a morally corrupt society because mankind is morally corrupt. I believe that in this sense, we as Schoenstatt Movement have much to give, especially through the Covenant of Love and the pedagogy of attachments.
Fr. Kentenich always tried to give an answer to the challenges and situations in society and in the Church. He always tried with a servant attitude and showed the richness of our spirituality: the Covenant of Love, faith in Divine Providence, the reality that we are instruments in the hand of God for the building of a better world. In this sense I feel happy, although it will be a work with many challenges.

With what attitude do you view this mission?
With willingness and the spirit of service to help in this commission where there are many professionals from different fields and a multidisciplinary committee.
Here each one of us can give a little of ourselves in order to relieve the suffering of many people together. We can collaborate with the Church, which cares for the suffering that has been inflicted on many children and young people who are now adults. They have suffered much in the past and continue to suffer because the pain does not go away.  We can only relieve.  At the same time, we can also find ways to prevent greater damage that may occur. It is proposed to care not only for the victims, but also for the perpetrators, who must also be accompanied.  They must, of course, be held accountable for their actions.  But they also need to be accompanied by professionals, because there too there are very serious diseases and suffering.
Certainly Schoenstatters in many places of the world work with the Church in various fields, inspired by the words of Father Joseph Kentenich:
"All for Schoenstatt, Schoenstatt for the Church and
the Church for the Triune God."