A circle is complete
After more than 45 years, I am now working again in the profession of a nurse, which I learned and practiced for several years before joining the community of the Schoenstatt Sisters of Mary.
Since then I have been able to gain experience again and again, which demanded a lot of independence and self-determination
–  in dealing with patients and their relatives who were involved in the care;
–  as a nurse in the geriatric section for our Sisters in Dietershausen in the care of our older and sick fellow Sisters;
–  in the professional circle of nurses responsible for the exchange and further training of nurses in our community.
In this way I kept up to date and at the same time I was able to observe the rapid changes in the nursing profession.
Real challenges
Since February 2018 I have been living as an extern in Hanau – in the city that became widely known through the terrible terrorist attack on February 19, 2020.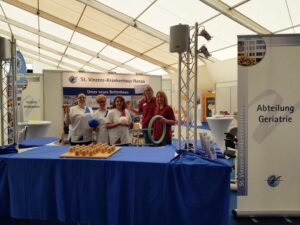 The St. Vinzenz-Hospital has a certified department for geriatrics and geriatric traumatology, where I have been working. This ward is an acute care unit with an attached rehabilitation center. We look after 64 patients in a team of physiotherapists and occupational therapists as well as professionally trained doctors and nursing staff. Great importance is attached to professionalism, independence and cooperation. Geriatrics means: We care for elderly patients from 70 to over 90 years of age.
All specialties of the hospital are represented on our ward: trauma surgery, geriatric traumatology and internal medicine. Palliative and intensive care is also included, but usually only on a transitional basis until transfer to a hospice affiliated with the hospital or to another care unit.
The familiarization phase was a real challenge for me. Many things were completely new and unknown to me, as medicine in particular has made tremendous progress. In addition, the work in geriatrics is very much focused on therapeutic care, which I also had to learn anew. The fast pace of work, the required expertise and the documentation cost me a lot of energy in the beginning. In the meantime I have become independent, thanks to my ward nurse, who has accompanied me with a lot of understanding and patience during the familiarization period, with many conversations, feedback and professional support.
I am responsible either for one area of the ward or for the whole shift. Two to three nursing assistants or students work with me in the ward area. Thus I am in the ward base a lot besides nursing. My working time is mainly late shift.
A large number of the patients are dementia patients; they are restless, need observation and empathy. Good words and attention often have more effect than medication. Full concentration is always required so that no mistakes are made. The patients are very grateful, sometimes even demanding, as it is everywhere today.
Going from my Heart Shrine to the patients

Because I am in civilian clothes, at first glance you cannot tell that I am a Schoenstatt Sister of Mary. But some patients see the cross that I wear on my jacket and they speak to me. It often requires listening, showing understanding, saying an encouraging word and just being there, not letting it be known that one is under stress, which really sometimes requires discipline.
I always try to go to the patients from my Heart Shrine, I pray the little consecration on the way to the patient's room, and each bell is for me "homecoming time" to God, because one needs reminder signs that one is not just "living it up". That this is noticed was shown to me by the word of our chief physician when he said to me: "Sister Johanna, where do you get this peace! What you do is all very professional!" Such a statement is naturally challenging!
My work colleagues know that I am a Schoenstatt Sister of Mary, and I have often spoken about how I came to this and how we live as such. Some colleagues are not baptized or the religious is very far away for them. Some colleagues have already expressed that I should pray for them "because you certainly do".
Encounters with Him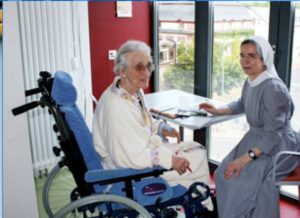 It is wonderful that there are still some Sisters of Mercy in the house who can make a religious statement with me. The patients are brought to the chapel for Holy Mass on request or can receive Holy Communion in the sickroom. There are often meetings for me in the corridor when the Savior comes. This is always a particularly beautiful moment for me and I feel that HE is there.
I am very grateful and glad that I can work again in my learned profession – something I would never have thought possible. And I realize again and again that it is a wonderful job that I am allowed to do.