Who is Father Joseph Kentenich to people all over the world?
Only twenty minutes should answer this question:
Of course not the minutes, but the young Sisters of Mary who came to Schoenstatt-Au that afternoon answer that question.. There, as on every 15th of the month, Holy Mass will be celebrated in the intentions entrusted to Father Kentenich. Today the participants attending the Mass are invited to a special non-stop trip around the world. The awaked interest is in the question:
Who is Father Kentenich – not only for us here in Europe, but also for the people in other continents?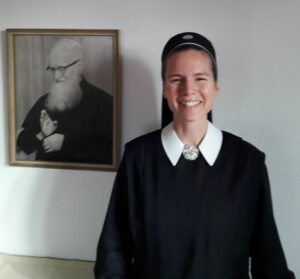 It becomes quiet in the well-filled church when Sister Maria Lupiañez from Argentina steps up to the microphone. Her statement, presented in German, her palpable emotion and joy obviously touched the hearts. A few brief highlights will be illuminated here:
– Father Kentenich is ONE WAY, and in this way God brought me close to his Father-heart and showed me how great his love for me is.
– He is a TRANSPARENT of the love and mercy of God. He has given this to others all his life, and to this day he also gives it to me, here and now, in this place, among us.
– He is A TOOL IN THE HAND OF GOD. Through him the message of the Covenant of Love with Mary becomes more real and concrete.
– He is a PROPHET with a mission that in our time gives an answer to the deepest and most intimate love: to love in truth and to love as children, even when one is grown up.
After the start in America, we will go directly to the stopover in Australia. We are curious about the statement of Sister M. Julie Brcar from Sydney.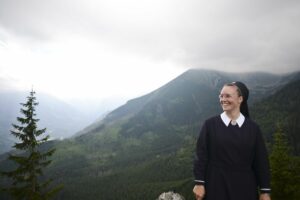 A short extract from it:
Unfortunately, Father Kentenich did not visit Australia during his lifetime. When a missionary sister asked him in 1967: "When are you coming to Australia?", his spontaneous answer was: "From heaven!"
This is my core experience with Father Kentenich and the experience of many who belong to the Schoenstatt Movement in Australia or who make pilgrimages to the Shrines. For us this experience testifies to the reality of the supernatural. If we are allowed to experience this in a "saint", that he is close to us from heaven, we cannot doubt that there is a God and a heavenly Mother who takes care of us in a very personal way. From heaven we experience Father Kentenich as a spiritual Father. Especially for those who had no father or a less ideal father in their lives, his spiritual fatherhood is healing.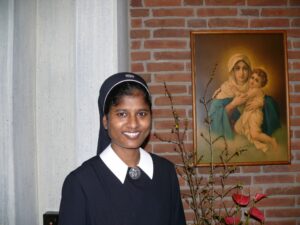 Sister M. Rubini Joseph from India leads us further to Asia. Her knowledge of German is already so advanced that she speaks a few words quite freely. Radiant, she takes us into her joy: her family father is called Joseph. Since Father Kentenich also bears the name Joseph, she could quickly and easily find him as a spiritual father …
And what's it like in Africa? Sister M. Bonnie Robbins, who is a teacher here at the Schoenstatt Marian School in Borken, gives us an insight that is deeply moving and inspires us to a new trust in God. Some notes from it: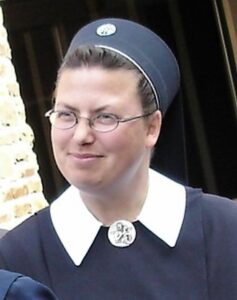 In South Africa we are very grateful that Father Kentenich had the courage to send the first group of Sisters of our community as missionaries to South Africa as early as 1933 – only seven years after the founding of the Sister Family. In doing so he trusted completely in God's providence. (…) That is how he impressed the young sisters:
"Go out and always trust in the mater habebit curam!"
That means the Mother will provide. This sentence was not only a reference, but it concealed his unshakable trust in Mary; his mission to lead people to the faithful conviction in the midst of all tribulations: Always trust that the Mother will provide!
Whether in the difficult years of construction or during decades of apartheid and political instability – always the three letters MHC were like an anchor of hope and salvation in all hardships, at the same time mission, guiding star and encouragement for fruitful missionary work.
Today many people – young and old, rich and poor, regardless of their cultural background or faith – come to the three Schoenstatt Shrines in Cape Town. They bring their concerns and worries and entrust them to the Blessed Mother because they are allowed to experience MHC – the Mother will care!   -This is my core experience with Father Kentenich and the experience
"Only 20 minutes" a young woman whispers to her bank neighbor "and what a vivid image of Father Kentenich!" And the neighbor replies just as quietly: "I did not know that Father Kentenich was known worldwide. But these 20 minutes convinced me: Father Kentenich is truly a saint for the whole world!"