An invitation to France
– you don't get it every day! I received one from the priest who is responsible for the Schoenstatt Chapel in Cambrai. I accepted with joy, but I was a little excited because I did not know what to expect there.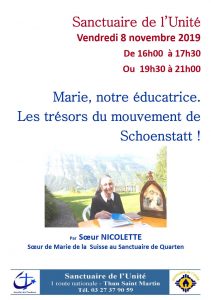 In Cambrai, Joseph Engling (picture of a Schoenstatter who died there in 1918 during the war) welcomed me in front of the Shrine. In the Shrine I feel welcomed and immediately at home.
An enthusiastic apostle
In the course of the week I come into contact with many people and meet different groups. I am surprised at how much Schoenstatt life I encounter. The priest is an enthusiastic apostle of the Mother Thrice Admirable. He knows many people and leads them to the Shrine. In five years more than 50 people have sealed the Covenant of Love. He regularly organizes pilgrimages to Schoenstatt. I notice that some French people already have a lot of Schoenstatt knowledge.
Proud to belong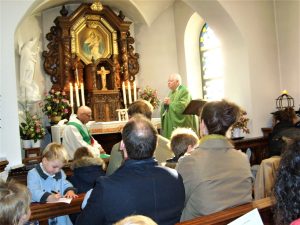 Between 15 and 30 people participate in the daily evening Mass in the shrine. The pilgrimage movement is great. There are different pilgrim shrine circles and league groups:
– a 35-year-old man proudly declares that he is part of a men's group that meets monthly
– a group of mothers will soon make their membership dedication
– a group of 16-year-old girls is cared for by two Schoenstatt Mothers, etc.
Finding the faith
I notice how people are apostolic and enthusiastic about Schoenstatt. Some have only recently found faith. For example, I meet a 25-year-old man who was baptized a year ago, a 40-year-old farmer's wife who was confirmed a month ago, a woman of the same age who converted five years ago, and now works as a catechist. Her husband did not want to know anything at first. After a year, he too was "bitten" by it. We have deep faith conversations. I give a group lesson, I give two talks, I participate in a program on Radio Maria, I organize an afternoon of reflection for the mothers, I visit a pilgrim shrine circle and I make house calls.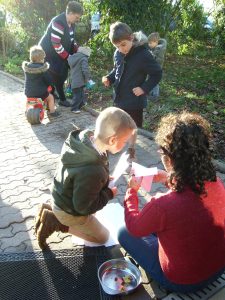 Surprise from Belgium
On the last day of my stay in France, ten young Belgian Schoenstatt families arrive unexpectedly. They are making a pilgrimage to the Shrine. Many children are present. It is wonderful! My task is to speak to the youth about the Covenant of Love.
On Sunday morning a wonderful morning light in the most beautiful colors illuminates the sky. It seems to me a symbol of the life that is setting out from the Shrine in Cambrai for France and Belgium. I am grateful for all the experiences and encounters and that I was able to sow a few seeds there. Now I am curious to see how the Mother Thrice Admirable and Joseph Engling will continue to care.