My experience as brother of Sister M. Martina Winkler
Hello, my name is Christian Winkler and I am the older brother of Sister M. Martina. I was invited by the Sisters to give a small testimony this afternoon of what it is like and what it means for us as a family to have a sister and daughter in the consecrated life.
It seems to me that it was only yesterday when we were in this very church celebrating the reception. I could say that from that year until today it has been an endless stream of graces.
Sometimes it has not been easy, it is true, but over the years we have learned to live with you in a different way and especially to accept and support your decision. We are free, and in this freedom we find the paths that lead to our happiness. The tranquility that allows us to see you happy and content overcomes every obstacle. You are happy and so are we.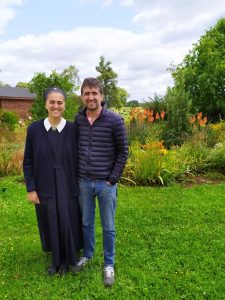 Your life decision was not easy, but today we take it as a great lesson: My beloved sister … In our daily life we miss you very much, but our consolation is to see how your vocation fills you with happiness and love.
We have learned to let go of you and to put aside our selfishness so that you can give yourself to others and that through you others may discover the Blessed Mother.
To have you as a sister, as a Sister of Mary, required us to understand your world. At the beginning it was not easy, but you know that you can rely on us and have all our support.
To be able to accompany you better, we had to understand what you love, what your passion is. We were introduced to the Schoenstatt Family, we got to know Father Kentenich, we sealed our Covenant of Love and today we participate in couples groups.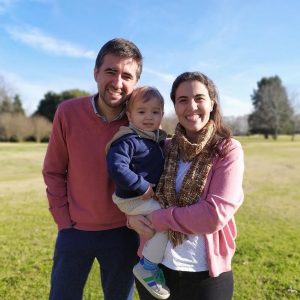 Almost without realizing it, the Blessed Mother was and is the most important person in our family. Our faith has grown by leaps and bounds. What a gift, isn't it?
The graces that included this gift of your life grew greatly. That is in large part the reason why we are more members of your family today: Your three nephews are an example of that.
When I tell them that my younger sister is a Sister of Mary, my chest and heart swell every time. I assure you that this feeling of pride together with a bright smile is unique.
We thank heaven sincerely for so much undeserved grace.
To all the Sisters who are here present, I thank you from the bottom of my heart. Because of you, we feel part of this great family.
And thank you, little sister, because I feel very privileged to have Jesus as my brother-in-law.
Thank you so much.