She is REALLY closest to those
who need it most.
30 Pilgrim Shrines in a hospital
"She is the great missionary, she will work miracles!" Trusting in this reality, 30 employees of the Santa Casa Hospital in Londrina, Paraná State, Brazil, took on the task of missionaries to bring the Blessed Mother in the Pilgrim Shrine to the stations of the large hospital. Each Pilgrim Shrine visits a ward or an area of the hospital. And she also accompanies the employees who want to take a Pilgrim Shrine home, so that their family members can also participate in these graces.
She goes to meet her children where they are.
 Two years ago Sister M. Gláucia Couto began the pastoral work with the more than 1000 employees. During the meetings, which took place at different times due to the change of shifts, it was evident that the Blessed Mother truly opens hearts to the Savior. Sister M. Gláucia confirms: "More than 120 employees sealed the Covenant of Love with the Blessed Mother."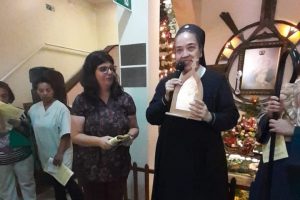 The Covenant of Love educates missionaries: In 2020, 30 Pilgrim Shrines began to make pilgrimages through the wards of the hospital and to the homes of the employees. Sister M. Gláucia is sure that the Blessed Mother chose her own instruments, there are 30 missionaries. This is confirmed by the missionary Amanda Vivela, contract analyst: "I am convinced that she has chosen and welcomed me. She is the Mother of Jesus, and I am sure that she understands my heart and the hearts of all those who give her their hearts."
A hospital under the blessing of the Blessed Mother
 After the missionaries took up their task in the Tabor Shrine in Londrina, the "One who crushes the head of the serpent", the Blessed Mother, began her pilgrimage through the stations on the 18th and 19th. Nurse Graziele O. G. Pupo reports: "Receiving the Pilgrim Mother is wonderful; she brings peace, love and joy to our homes. Even my boy knows that when I come with the green bag, it contains the picture of the Blessed Mother. He is happy and he says: 'Mother, she will sleep with us tonight.'"
These nursing professionals, who care so much for others, are now being cared for by the Blessed Mother. Andrea Reis, who works in the personnel area, experienced this. "When I received the Pilgrim Shrine, I decided to spend Christmas with the Blessed Mother. They were very special days. We spent Christmas Eve at my mother's house. Four years ago my father died, a man of faith and a devotee of the Blessed Mother. This year on Christmas Eve, the Blessed Mother's presence was a comfort to our hearts."
Those who come to the hospital will be received by the picture of the Blessed Mother and can be sure that she will also take care of all the details of the treatment, because you will meet her in all areas.