Sister M. Lisette Seitzer
was born on July 30, 1950 in Waldstetten / Diöz. Rottb.-Stuttgart. In May 1970 she entered the community of the Schoenstatt Sisters of Mary in South Africa. After training as a teacher and working in this profession for two years, then studying psycho-pedagogy, anthropology and theology in French at a university in Switzerland, she was sent to Burundi in 1984. It was here that she found her life's work.
Longing for Africa
Even as a teenager, Sr. M. Lisette felt a strong longing to work in Africa. The letters of her aunt, who worked as a missionary in South Africa, probably contributed to this. Today Sr. M. Lisette can look back on almost 50 years of experience in Africa. She is currently responsible for the Burundi delegation of the community of 40 sisters, 12 novices and 15 candidates.
Diverse tasks
Upon arriving in Mutumba, Sister M. Lisette was confronted with the poverty of the population, but also experienced the impressive commitment of her fellow sisters in hospital, school and pastoral care. At first she was entrusted with the education of the native sisters. In addition, she built up groups of girls, women and families, which quickly spread to many dioceses.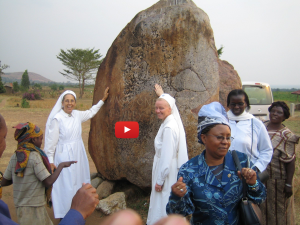 With missionary verve she also became involved in other projects. In the neighbouring mountains she searched for a spring to ensure the drinking water supply of the station and organized the renewal of the turbine plant, which to this day supplies the nurses' station and health center as well as schools, handicraft businesses and 50 families with electricity.
Turbulent years
Sr. M. Lisette experienced many years of political unrest in Burundi. Like many other missionaries, she was expelled in 1987, but thanks to the change of government she was able to return within a year. In the years of the civil war she experienced several attacks on the mission station by the rebel troops. On May 1, 1997, a Swiss fellow sister had to pay with her life along with a pregnant woman when she drove over a mine laid by rebels, but intrepidly the sisters opened a peace and encounter center in Bujumbura in 1997.
Hope for the future
 Even today, the situation in Burundi is not easy. But Sr. M. Lisette looks to the future with great hope: "I am experiencing a living, dynamic, committed church here". She sees her most important task in enabling the young sisters to continue the work of the European missionaries. Her longing for Africa has become concrete:
"To win people for God and for good in the covenant with Mary, to show them the way,
that seems important to me. Every concern for the sick and the poor seems to me to be a part of this journey. Happy and committed educational work for young people prepares the future of a country".