2019 AUSTRALIAN CATHOLIC YOUTH FESTIVAL (ACYF)
Expo in Perth, Western Australia
The Australian Catholic Youth Festival (ACYF) held every two years in a different city in Australia, is a chance for thousands of young Catholics (aged 15-25) to gather, encounter Jesus and celebrate their faith. This year, the city of Perth, Western Australia was chosen to host ACYF 2019 with the theme:
'Listen to what the Spirit is saying'.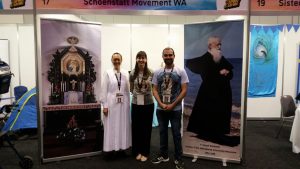 We prepared to welcome 5,500 youth nationwide from Sunday, December 8 to Tuesday, December 10. The ACYF Expo, with more than 80 stalls, comprising of participating Catholic agencies, organisations, religious orders, ecclesial movements and all types of Catholic groups from across Australia, offered a range of interactive and experiential activities through which the youth were invited to explore the variety of the Church's mission in Australia. Our Schoenstatt WA family wanted to be involved at one of these stalls, to share our love of Schoenstatt, the Shrine, the Mother Thrice Admirable and our founder, with the youth of Australia.
… to powerfully draw youthful hearts to herself
As part of our preparation, we especially invited our Mother and Queen to be present at our stall through the Pilgrim Shrine and our heart Shrines, asking her to powerfully draw youthful hearts to herself. And this is exactly what she did!
Guilherme Dias (Young Schoenstatt couples) commented: It was such a joy to be part of ACYF representing the Movement! On the first day we had hundreds of visitors, many of them interested in making a rosary bracelet. Then, as they made their bracelets, we had a chance to explain more about Schoenstatt. So happy to have been a part of all this!
Manoela Costa Pereira (Schoenstatt Young Adults) felt that it was an enriching experience for her to share a little bit of our great and beautiful world of Schoenstatt.  I could see that many of the youth were fascinated by our rich spirituality!  At the same time it was a challenge to try to talk about Schoenstatt in English, as I only arrived four months ago from Brazil. Nevertheless, I am sure the Holy Spirit and our MTA used me as an instrument.
After making a rosary bracelet, the youth were invited to pick up a prayer card, novena or brochure on Schoenstatt, and if they wished, to write an intention or prayer request to Mary. These we would bring to her throne of grace at the Mt Richon Shrine. It was touching to see, that the jar of intentions kept filling up each day. Sometimes the booth was so full of youth that one of them inventively used a friend's back to write out their intention!
Shrine cookie – each one was a unique father telephone!
Before leaving, they were offered a Shrine cookie. Lina Woodbrook (Schoenstatt Couples) and her family had busied themselves baking and icing over 400 Shrine cookies for the event. Each cookie had a different sentence from our founder – yes, each one was a unique father telephone! Some of the youth who read their sentence were visibly moved, because it was exactly an answer to a prayer, question or struggle in their hearts. Lina experienced the joy of seeing the last of the cookies disappear by midday on the last day. She said: it was so refreshing to see the faith of these young people, to hear them convincingly say: I love God!
Through the presence of us sisters and our Movement members, we could present Schoenstatt as a diverse family. Some of the youth commented on the fact that our booth was different, because they not only saw sisters but other ordinary people who love Schoenstatt. The spiritual conversations we had with those who came, were truly small moments of grace, small opportunities to share our treasures of faith in Divine Providence; our mission to be Mary for today; the power of the Covenant of Love and the experience of the Shrine as a place of grace. One young man said: I come to your Shrine every few weeks with my family and I love that place! Bishops, priests and Seminarians who know our Shrine in Sydney, NSW came by, as well as a number of religious sisters who saw our MTA image and simply had to stop by, because I love our Mother Mary!
Siobhan Page (Young Schoenstatt Couples) also felt that the experience in the booth was great! It was wonderful to see how keen the young people were to engage with everything we wanted to offer. I was especially touched by the aboriginal visitors from the Northern Territory who were clearly drawn to our Mother Thrice Admirable's image and keen to take her back with them to share at home. The whole gathering had a definite feeling of being under our Mother's mantle and guided by the Holy Spirit. A very special thing to be a part of.
On looking back on her time at the Expo, Angela Tuhakaraina (Young Schoenstatt Mothers) said: It was such an exciting experience and I was amazed by the number of youth who attended the event, especially the number who stopped at our Schoenstatt booth. The youth were literally arriving in small groups, coming one after the other. The Mother Thrice Admirable was clearly at work, drawing them in. The atmosphere and energy is amazing! I am so grateful to be a part of this wonderful experience.
You can't keep something like Schoenstatt only to yourself.
This is the largest Catholic youth event ever held in Western Australia. Antoinette Donegan (Young Schoenstatt Mothers) summed it up in this way: This seemed like a once in a lifetime opportunity to share Schoenstatt. You can't keep something like Schoenstatt, which is so amazing, only to yourself.
The next Australian Catholic Youth Festival will take place in December 2021, with the bishops planning to host the event this time in regional Australia.