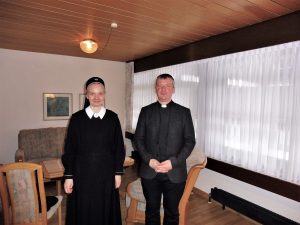 I am proud to have a brother priest! For me it is still a miracle from heaven that he has chosen this path.
We did not grow up Catholic in the former Soviet Union. It was not until I was 13 that I was baptized – without my parents knowing about it.
In the meantime, I have been a Schoenstatt Sister of Mary for 20 years, currently working in Schoenstatt, and my brother, who is 2½ years younger, works as a priest in Saint Petersburg.
Discovering God Everywhere
Already as a teenager I came into contact with Schoenstatt. From the beginning, I was fascinated by a word from Father Kentenich that said that even a fleabite can tell me something about God: That I can discover HIM behind it when I look for him.
Through this I have learned to see the world positively and to discover the beauty behind the unpleasant. This enriches and widens the heart.
Because I am deeply convinced that I am a child of God, I also have a lot of motivation to do my work well and to tackle even unloved tasks, which belong everywhere.
In Russia I had started studying mathematics before joining our community. Already as a Sister of Mary, I learned to be a teacher in Germany and now I work in the service of our large educational institution on Mount Schoenstatt. At the same time, I studied business management in Russia from here.
So many facets of my life – and through all of them God wants to show me his love; also through things that go wrong or that I don't like so much. For me this is the challenge to look deeper and to think about what situations and events can tell me about God. Sometimes it takes time…
But I'll keep looking until I succeed.
A Big Family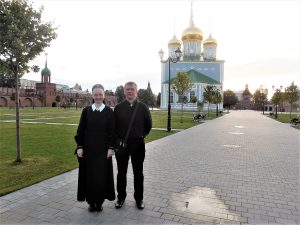 My brother does not belong directly to Schoenstatt, but he is very attached to Schoenstatt – not only because of me. He made his last decision about being a priest in a Schoenstatt Shrine when he was on his way to my reception here in Schoenstatt.
When he comes to visit me, we talk a lot, especially about the Church in the world, especially about the Church in Russia.
In addition, we both like to go for walks and love to play UNO (a card game) – but we write down the points to make it more exciting. This is our common relaxation.
My brother's calling, as well as my own, is still a very joyful gift for me. Somehow I also feel responsible for his path, before which I stand in awe.
When he then celebrates Holy Mass for our community during his visit to Schoenstatt, even in German – as well as possible – it is as if we were one big family.