You Are Effective – Move More from Within
The look into my calendar promises an exciting and varied time in which I get together again with many women: Seminar evening in Brühl, team meeting in Euskirchen, oasis days in Schoenstatt, Advent events in Sauerland, Paderborn, Duisburg and Cologne … In addition, various preparations for the Women's Congress in May 2020 in Schoenstatt.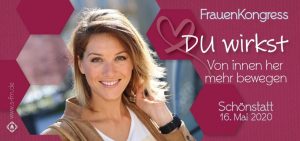 I would never have dreamed as a child that I would "tour" across Germany, accompany various women's events and now also be part of this major project – even though it was something like a dream.
"I want to do that too!"
I thought as a child when a sister came to our house regularly and the door to the living room closed – behind her a group of women (my mother with her), who wanted to talk about a religious or pedagogical topic in peace.
At the same time, as teenagers, we discovered the Schoenstatt Youth Work, in which we were very active from then on. I owe a lot to the Sister of Mary who inspired the youth work on the spot. Through cooperation, growing co-responsibility, and many meetings, I realized two things:
1 "That's how I want to be!" The sister was always happy, gave a lot of trust and was able to make demands in a healthy way. She was already "older", but that was no criterion for me. She was above all maternal.
2 "I want to do that too!" That would give me joy: What I learn here, pass on to many.
And what above all did I learn? God, was for me as a child simply "only" God. Through Schoenstatt he became more and more "Father" for me. Just as Jesus calls him: Father. Familiar and personal. In the Covenant of Love with Mary, who was herself a child before the Father in heaven, I was allowed and am allowed to learn how it works today: to be a child before God, the Father, to let Him guide me …
This is where you belong
My first visit to Schoenstatt was very sober. The entrance to the Original Shrine was blocked with a scrubbing brush: freshly cleaned. So I only saw this special place "from the outside". Many more stays with the youth or later also privately deepened in me the certainty: Here is your place. This is where you belong!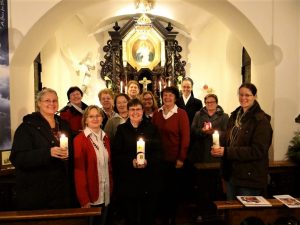 My childhood dream has come true. As a Sister of Mary, I have been working in the Schoenstatt Women's Movement for years. This task is a great gift to me. The work in the different teams is very joyful. It is a beautiful challenge to keep reaching out together: How can we make the women of today familiar with Schoenstatt so that their lives become richer, deeper and more joyful? The range of events is varied: personality workshop, seminars, Women's Day, "One hour for YOU", oasis days with and without children, evening group meetings…
What's the popular saying? The man may build the great times – a people stands and falls with its women. Yes, I am amazed at the strength with which the women stand in the here and now. How many marriages and families are strengthened by them – not only their own! How much commitment in the circle of colleagues at work! How much church commitment! – I heard a powerful word only recently, when a fresh and joyful, ardent First Communion catechist from our Schoenstatt Movement did not allow herself to be discouraged, because many of the children are no longer present after the First Communion. She simply said: "We are here to sow the seed!" – And she immediately contacted the team for the next preparation round. How much commitment in the Schoenstatt Movement in the centers, in our own community, in the local community!
Yes, the women are shaping a climate in which the individual counts, in which God can be experienced, in which responsibility for one another can be experienced.
Through the encounters with the innumerable number of women I have received many gifts. I thank God that I may help him in this task.