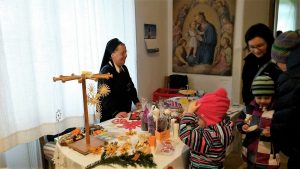 Sister M. Christin Link from Munich was asked if she would take over a stand on Nov. 30-Dec. 1, 2019 at the Adventsmarket in the former monastery Beuerberg, near the Starnberger See. She agreed and was there on Saturday afternoon with her fellow sister, Sister M. Berntraude Grimme. On Sunday I was able to join her, because I was working in the area this weekend.
Snowy landscape reminiscent of the Immaculate Conception
 I would like to tell you a little about it, because it was incredibly impressive, not only for me. Already the trip through the snowy landscape along the mountain chain into the Ostallgäu was an unexpected gift from heaven for me. I was reminded of the Immaculata. Soon we celebrate this feast.
Already outside the monastery building a large poster was attached and on it a worthy Bishop Nikolaus was represented! In the entrance area there was a program to take along with the same motif.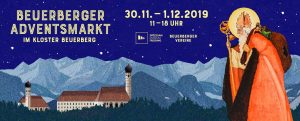 Those responsible for the Advent market could feel that they were overwhelmed by the great interest. The people streamed in. When I arrived in the monastery building, I quickly found my course sister.
How astonished I was at the rich accompanying program: There were beautifully decorated sales-stands in the corridors and rooms. In the monastery yard two lamas were to be admired, later a horse-drawn carriage was added.
Further offers were:
A monastery tour of the exhibition,
Baby Jesus in different sizes, blessing or as a child in the manger, a toddler, a baby in diapers,
Various nativity scenes, e.g. Annunciation, search for a shelter, flight to Egypt, the three Magi, etc.
Overwhelmed by the great interest
Again and again people stood in front of it all and were amazed. There were also small snack bars, a monastery pharmacy and a bakery. There, children could decorate gingerbread hearts, make small cribs, etc. At one stand you could make beautiful wooden boards with a soldering iron. The children had their own craft room. They could gild nuts and wrap stars. Volunteers guided the little ones.
 A lot of families came by and saw us.
Right in front of this room was our stand. So many families passed by. As an encore we had a concert in the next room. Two times this afternoon the Munich Boys Choir sang the Orff Christmas in the former house chapel of the monastery! In my heart I sang along and enjoyed it!
We were often asked what kind of sisters we were. So we could tell a great deal and give some information about Schoenstatt. Above all, we invited them to the Women's Congress 2020. We were often able to refer to our Advent calendar. Children were happy about a small MTA picture. The homemade cookies, jam, apple bread, star charts with special folding technique, herb salt, stars, even the decorated candles and knitwear – everything went like hot cakes! We experienced a lot of goodwill. People wanted to know who made it. We could answer that it was a community work of different sisters and acquaintances.
Already on Saturday there were more than 4,000 visitors, on Sunday probably more than 7,000. Even the head of the Diocesan museum was happily surprised. It was a joy to see the many young families. Everything was stylish, worthy, in a beautiful atmosphere!
Our participation in the Advent market was really worthwhile, also because the people were happy about us sisters.
See also: Beuerberger Adventsmarkt