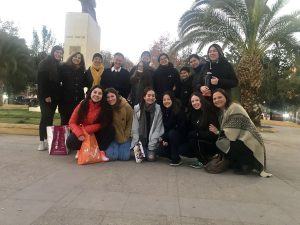 A permanent goal of our Catholic Marian School in Santiago / Chile is to awaken solidarity with the poor.
The month of August is
the month of solidarity in Chile,
following the example of Saint Alberto Hurtado, a Jesuit priest who dedicated his life to the poorest.
This is why groups of our schoolgirls went out into the streets of Santiago to bring breakfast to men and women who sleep on the streets, on mattresses on the sidewalk, in small tents or covered with cardboard at very low winter temperatures.  Many are emigrants from Brazil, Venezuela, Colombia, Peru, Haiti and other countries of the continent.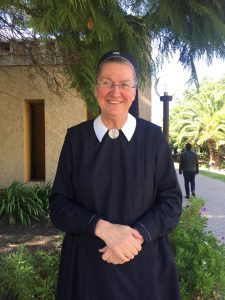 The students are accompanied by teachers and parents and they go at 6 am before classes begin. For the girls it is an unforgettable experience. On the photos we see Sister M. Flavia Sommerhoff, together with Isabel Román, a teacher, with a group of pupils in the forest park.
An experience:
"A fate that struck us the most was that of Patricia, a very young woman from Brazil. She has been living for five months in a small tent, without a mobile phone, without money, without the possibility to work, because she has no valid papers. She was a policewoman in Sao Paulo and, because of a very complicated situation, had to flee her country to save her life. She spends the whole day sitting next to her tent. While the park gardener takes care of her tent, she goes to a public toilet and eats in a nearby soup kitchen for the homeless. It is her only food; she is hungry. She is not afraid because she believes that God is with her and protecting her. She has no current contact with her relatives. Every Tuesday we also bring her some clothes or toiletries with breakfast. Last time we could bring her a Bible because she asked for it. She still doesn't speak much Spanish, so she just looks at us with smiling eyes, hugs the bag with the presents and kisses my hands in gratitude."