A journalist lives a day with the Sisters of Mary
Excerpt from a newspaper article by Patricia Hobi, Mels, Switzerland
(2nd part)
A life for God and our fellow men: 28 Schoenstatt Sisters of Mary live in the Neu-Schönstatt Center in Quarten.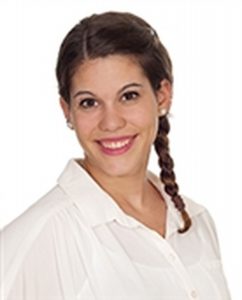 A visit to them shows that they are anything but withdrawn.

Thursday
It's not often that I get up before 7:00. The daily routine of the Sisters of Mary is different. They get up before 6:00 a.m. and go to the shrine of Mary. The day begins as it ended: with a prayer. Again, one sister speaks a verse, and the other sisters respond "in the choir" with their passages. After the Morning Prayer, each sister prays another 30 minutes for herself. At 7:30 a.m. the Eucharist is celebrated in the chapel. In addition to the Sisters of Mary, there are also some private persons, perhaps hotel guests, perhaps also those who like to attend the Mass here.
In the summer camp with the theme: Gold diggers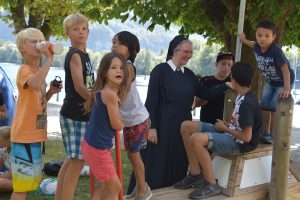 It is shortly after eight o'clock, the priest sends us forth in peace and I feel as if I had already done quite a bit this morning – and not even had breakfast. Now I feel hungry, and fortunately I immediately meet Sister M. Monja Schnider at the exit. With her I am allowed to have breakfast with the families who visit the Muki-Vaki vacation camp. The theme of the camp is "gold diggers". It is offered every year. Sister M. Monja does it for the seventh time and puts together a varied program for her guests. Today it goes to Unterterzen to the lake for swimming.
Arranging flowers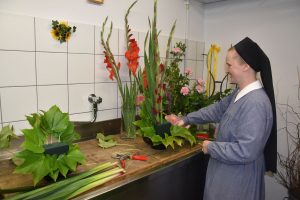 My next stop is with Sister M. Antonia Stanek in a room full of flowers, pots and decorative material. She comes from Poland, has been a Sister of Mary for 18 years and has been in Quarten for six years. As a sacristan she takes care of the decoration of the churches. Together we put flowers and leaves in moss. Red gladiolas and yellow lilies, plus a few decorative leaves. Sister M. Antonia is very experienced; I am not at all, which you can see in the flower arrangement. Nevertheless, she likes my result, and so do I. Together we carry our flower arrangements to the house chapel, where we place them next to the tabernacle – where the hosts are kept. The flowers are still closed, but soon they will open and fill the chapel with their beauty.
"On the way to you"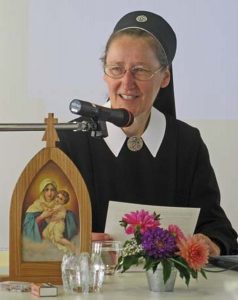 Shortly before lunch she accompanies me to Sister Ursula-Maria Bitterli. She reports about the project "On the way to you", in which a picture of Mary is passed on by interested families among each other. The initiator Joao Luiz Pozzobon comes from Brazil. In the meantime there are 300,000 pilgrim images in 120 countries and almost 900 in Switzerland and Liechtenstein. Before lunch, the Sisters of Mary will pray for another half hour.
Happy chatting and attentive listening
Lunch will be served at 1:00, outside today. A sister is standing behind the grill. The others have gathered around the benches. There is a happy atmosphere. The sisters chat. One plays guitar and the others sing. Making music is something they often do and which gives them a lot of pleasure. After the ice cream the sisters want to know what I do in my profession and why I am here. We sit in a circle and the sisters listen to me very carefully and ask questions. A little inverted world.
Photos of parents and their babies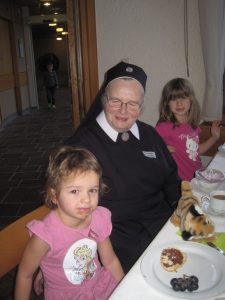 My last stop is with Sister M. Joseline Becchio, who is responsible for the families and organizes seminars for families and couples. On her wall hang photos of parents with their newborn babies and families laughing into the camera. And once again I see why the sisters emphasize that they do not live isolated in a convent, but in a secular institute. They are close to the people and want to give them something.
At 4 p.m. I say goodbye and return to the editorial office. I think, even though my life is very different from that of the sisters, we still have a lot in common. We all have our values and convictions; we make our decisions with all the consequences and with the hope of being happy as often as possible.