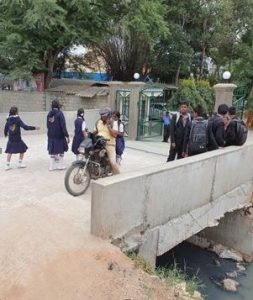 Post Silver Jubilee year, we have experienced that we need to trust in Divine Providence more and if we have crowned the Blessed mother, that crowning need to be lived and repeated.
On Maundy Thursday, we experienced the fury of Nature and with one rain the entire drain water by over flowing destroyed the school gate. Inside the school building two-meter-high drainage water and all the books, shoes, documents were damaged. Around 8pm we reached the school and was shocked. So many people were watching the scene and no one dared to go inside. Somehow, we sisters entered through the damaged gate and tried to open the additional provision to redirect the water but a big piece of log blocked its way and, in the darkness, we could not find it. Mr.Giver and some of the masters reached the spot and with their help we removed the log and water began to subside. We have tried to put up the damaged things and cleaning some of the rooms.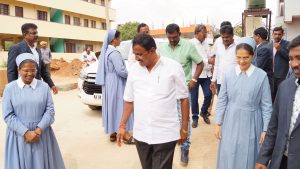 Many of the concerned BBMP people, MLA of our Constituency and press visited the site and left as usual except the MLA of this constituency. He told us that he will take the necessary action and find a permanent solution. We did not believe him as we considered as the usual politicians' tactics. But we trusted in the crowned Queen and have decided to approach the MLA personally and request him. When we visited his office, he was very friendly and promised us that he will do the work from the MLA's Fund, if  BBMP is not ready.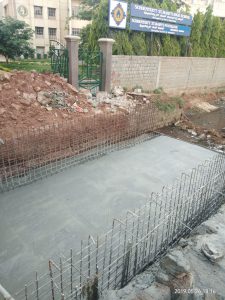 So, as he has said the work started on 20th May, a very nice and suitable day for the Schoenstatt children. So we were convinced that the blessed had interfered in our intention, and completed it on  end of July.
Now we have a very strongly built bridge in front of the school. The Blessed Mother has taken more than 21 years to send a kind hearted politician Mr. Manjunath.
We have thanked him by inviting him to school. We wanted to make it very simple with a small program. But he made it an official visit with police protection and by inviting his associates. He was impressed by the program and gave a big political speech and promised us in future also what the institution needs, he will be doing and he was very happy that the school invited him and thanked him.
At the end he said I would like to have a photo with the sisters. Yes, God will send always good people to us when we trust in his providence and guidance.