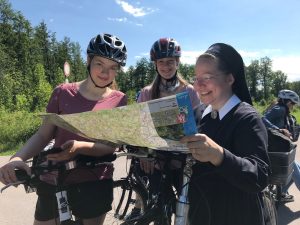 Our
"Sonnenau-WG"
(WG= Community on the Way)
took place in Oberkirch during Pentecost week – a Schoenstatt week for girls from 13 to 15 years.
This week we live together: getting to know Schoenstatt in great conversations, cooking together, joint activities, letting the soul hang loose and experiencing wonderful times in the Shrine. There especially we can feel the holy presence of God and the Blessed Mother of Schoenstatt.
The week was accompanied by two leaders and me as a youth sister of the Schoenstatt Girls Youth of Freiburg.
Pedal power to Strasbourg
This year, one day leads us from our Schoenstatt Center Marienfried to Strasbourg – not in the comfortable way by car, but with our own strength, which we put into the pedals of our bicycles.
The 44 miles that we cycle on this day are well worth it! Through the villages of the Ortenau, up to the Rhine and then over the beautiful white bridge, the way leads us to the city of Strasbourg. And of course we become an eye-catcher for some pedestrians and car drivers.
Our first destination is the cathedral. From here there is a city tour, and then in the cathedral we all meet again – the coolness surrounds us and the beautiful, well-known rosette window lets us guess what people have invested here in heart-blood and strength and faith. We let ourselves be inspired by this place of worship and really experience it as a place where we can "come down" again.
On the Way in the Covenant of Love
And here we also meet the Blessed Mother: in the image of the Virgin Mary who is the patron saint of Strasbourg. Anyone who travels in the Covenant of Love is always happy to receive a small sign from Mary – in a picture, an encounter, a help along the way.
On the wheels you have time and good conversations arise while we enjoy creation. And in the evening it is a real coming home to our little Shrine. Not as big as the cathedral – no! But a place where our soul can resonate and our hearts have a home.
Thank you for our great Schoenstatt WG (Community on the Way), for our companionship, our prayers and our adventures! Schoenstatt Girls Youth alive!