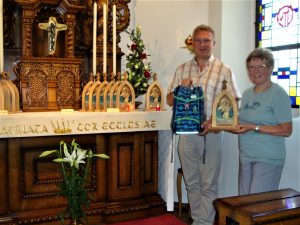 A deacon feels inspired to do something for Mary, for the families of his parish. He is convinced that his second graders, the altar boys, the baptismal families, etc. need a mother. And Jesus gave us his mother on the cross: "See your mother!" That is why the deacon is ready to start a larger project: In the sign of 18 pictures, so-called pilgrim shrines, Jesus and Mary will visit the families of his parish.
18 pictures of Mary for a parish …
We Swiss Sisters of Mary are happy about this initiative of the deacon. 18 pictures of the Virgin Mary will be placed on the altar of the Schoenstatt Shrine in Quarten. Among other things, the Pilgrim Shrine with the number 1000! The deacon has organized backpacks in which the pictures can be carried from house to house. We pray for the families, for the children and youth who will soon be visited by the Pilgrim Mother. Then the deacon receives one picture – representative of all – with the word: "See your mother! It is the Pilgrim Shrine with the number 1000! And he replied: "Welcome, Mary! I am happy that you are coming to the families in our parish. They need a mother. They need you!"
Pictures from the sending of the Pilgrim Shrine No. 1000
Over 40 pictures for little Switzerland
In 2019, more than 40 new pilgrim shrines were on their way to people in Switzerland. Here are some photos of them.
some pictures from the sending out ceremony in 2019