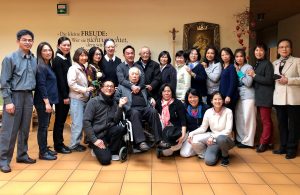 Some Vietnamese living in Germany had met
"Linh thao", a kind of silent day,
in Belgium in 1991. Soon after, the first course took place.
Through our contacts with Vietnam, I was able to invite them to the Schoenstatt Center Marienpfalz for the first time in 2011.
At first it was only a course with a few participants.
For me it was wonderful to experience that the Vietnamese increasingly came to appreciate and love our center. And above all, the Shrine of Joy as a very special place.
In the meantime, it has become a matter of course that the Holy Mass is in the Schoenstatt Shrine and that the participants often and gladly pray there.
The retreat masters – always Jesuits – come from different parts of the world. This makes it possible to talk about Schoenstatt, the MTA, our spirituality and Father Kentenich.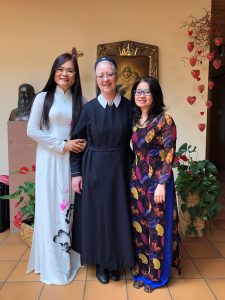 This year, Vietnamese from France and Norway joined us. Quite a few asked for an MTA picture and took it home with them.
Again and again the priests take something from here – e.g. meditate on the Blessed Mother in front of our relief in front of the house or weave Father Kentenich's thoughts into their theme.
In the meantime, three courses are taking place here, and the house is almost always full. Then there is always a very special atmosphere.
Finally, the group wrote this year after the first course:
"Dear Sisters of the Schoenstatt Center Marienpfalz, thank you from the bottom of my heart for your loving accommodation and your quiet accompaniment, united in prayer.
We feel very safe with you and our hearts were filled with joy". And one participant added in an e-mail: "It is always beautiful with you. I thank you very much for everything you have done for God, for Mother Mary and for us".