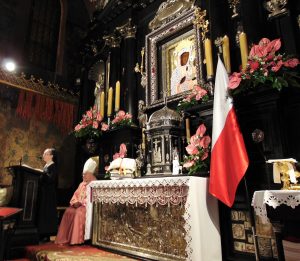 As living members of the Church, we have been
keeping watch with the Schoenstatt Family in Poland
at the Black Madonna in Czestochowa.
On the night before the fourth Sunday of Lent, the Schoenstatt Family in Poland has been meeting for many years on the Bright Mountain (Jasna Góra) in Czestochowa. We experience ourselves as a large Schoenstatt Family united in our charisma and bear witness to our presence in the Church. During the common prayer we entrust important intentions of the Church in our country to the Blessed Mother and the dear God and pray for our people.
This year the guard fell on the night of March 30-31, 2019. Several dioceses organized groups of pilgrims with buses.  An extraordinary number of people came. There were representatives of all the communities of the Schoenstatt Movement that exist in Poland. The apostolate of the Pilgrim Mother was very numerous. Even from Germany, from the Polish Catholic Missions, and from Belarus, pilgrims came to Czestochowa. Father Eduardo Aquirre, postulator for the process of beatification of Father Joseph Kentenich, was invited as a special guest to this event. In the first part of the meeting he spoke about initiatives of the Father Kentenich Year in the whole world.  His second talk showed Schoenstatt's response to the current needs of the Church – in the spirit of the Dilexit Ecclesiam of our Father and Founder.
The lecture by Dr. Paweł Kwas from the Family Federation was also very informative. He showed Schoenstatt as the work of the Holy Spirit – in connection with the pastoral program of the Church in Poland, whose motto is "In the power of the Holy Spirit".
Bishop Paweł Cieślik, protector of the Schoenstatt Movement in Poland presided at the Holy Mass at midnight. In his homily he continued the Gospel of Laetare Sunday, the parable of the prodigal son and merciful father.
In the first part of the meeting, people from the apostolate of the Pilgrim Mother shared their experiences, and in the second part – after Holy Mass at midnight – the members of the Family League. The testimonies were very moving for all the participants.
Central moments during the vigil were the time of silent adoration and common prayer. Traditionally in Poland we sing Passion songs on every Lent Sunday, the so-called "Bitter Mourning" (Gorzkie Żale). The devotion ended with the Eucharistic blessing and sending. After 4.00 a.m. in the morning we made our way home.
We hope that this time of prayer and reflection will bring rich fruits in the lives of all the participants and will also be a blessing for the Schoenstatt Family and the whole Church in Poland.