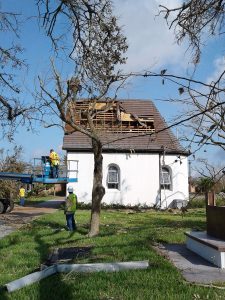 After months of waiting and longing,
the retreat center, House Schoenstatt,
in Lamar, Texas, USA,
could again open its doors for a full schedule of retreats and workshops. On August 25, 2017, Hurricane Harvey devastated the city of Rockport, Texas, and the surrounding area including the beautiful property and buildings of the Confidentia Shrine. As soon as communication could be made following the storm, a notice was posted via the website of Schoenstatt-Lamar and social media: all events cancelled until further notice.
Tests of Confidence
At that point, it couldn't be known how long the until further notice would be. It was hoped that within a few months, we could reopen the retreat center and again host workshops and retreats. As the months went by with one setback after another in the construction, including further damages discovered to House Schoenstatt which celebrates its 60th anniversary this year in 2019, it soon became clear that the Mother Thrice Admirable not only didn't want her some of the houses to be repaired, but also for some to be rebuilt and made stronger. This is a powerful confirmation of her mission here from our Confidentia Shrine and for our mission here as Sisters of Mary at the 70th anniversary of the arrival of our first mission sisters to Texas in 1949. Still, it tests the patience of the sisters and the entire Schoenstatt Family who often expressed their longing to come home again to their beloved Confidentia Shrine.
"It is good that we are here".
The completion of the sisters' wing in December 2018 allowed the guest rooms in a part of the house that was livable to be free and fully utilized. In January 2019, a little over sixteen months after Hurricane Harvey, we could again welcome the Schoenstatt Family and guests for retreats and workshops. House Schoenstatt is still not complete – the Father Wing, an addition built in 1967, is still waiting for its new windows and the completion of the restoration work – but any space that is finished is being used. It is a joy for us as Sisters to be able to provide a home to our Schoenstatt Family and other guests. Running our retreat centers and being at the service of our Schoenstatt Family is one of our essential tasks and has been since our founding in 1926.
Every task and element is essential whether it is in the practical behind the scenes work of administration, cooking, cleaning, or in the foreground of preparing and directing the retreats and workshops. All is done so that many may be able to experience the graces our Mother Thrice Admirable holds ready for them in her shrine. The grateful smiles on the faces of those who have come already from all over Texas, often traveling three to eight hours, give testimony to the words: "It is good that we are here" (Matthew 17:4)
Eager Anticipation for Completion
Many months still lie ahead before all the restoration work of House Schoenstatt will be finished, but for now, we do what we can to give a home to all who come. We wait confidently for the completion, trusting in the promise: "Mother will take perfect care". We know that in God's perfect timing, we will again be able to welcome many more guests to Schoenstatt-Lamar and to our Confidentia Shrine here in south Texas.