DAY FOR THE SICK, AGED AND PHYSICALLY CHALLENGED
SCHOENSTATT, CONSTANTIA

Since the early seventies, that is, roughly 45 years ago, a "Day for the Sick, Aged and Physically-challenged" members of our Schoenstatt Family has been held each year in Schoenstatt, Constantia. The invitation has since been extended to anyone in the Archdiocese of Cape Town who wishes to attend. Our Mother Thrice Admirable and Queen of Schoenstatt knows them all by name and welcomes them with great love. They are her favourite children! The following is a short report of the "Day" held on 17th February, 2019.
Treasures of the Church
The weather in Schoenstatt, Constantia, was glorious! The atmosphere became even more joyful as approximately 230 "Sick, Elderly and Physically-Challenged" men and women filled the hall to celebrate their special day.  According to Father Joseph Kentenich such people are the 'treasures of the Church'- the 'lightning conductors of grace'. Through their suffering they draw down God's blessing on the Church and world. Despite pain, blindness, deafness, terminal illness and the inability to move freely, smiling faces greeted one another each one hoping to be greeted in return!
Members of the Schoenstatt Community came to assist and contribute to the 'smooth running' of the Day. They welcomed all who came, registered them for the served lunch and sold rosaries and other holy items. One member provided accompaniment for the Mass and yet another took snapshots capturing the 'magic' of the day. Many Schoenstatt Sisters generously lent a hand wherever they were needed. One heard comments about how young these Sisters seemed to be as they 'flew' up and down stairs and, let it be said, even jumped off the stage! The staff of the Centre proved to be excellent and, after Holy Mass, provided a nourishing, delicious lunch.
Protect and support one another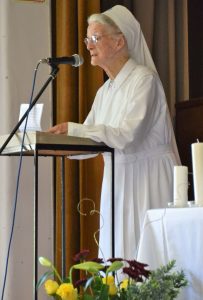 Sister Glynis gave a talk based on Father Kentenich's  words to the Sisters' community. "Protect and Support one another". He said these words end of his one and only visit to South Africa in 1948. With the aid of a story which illustrated how our lives are inter-connected, she applied this reality to our membership in Christ. As Christians we are responsible for one another. Despite having our own problems and suffering, we are encouraged to carry the burdens of others. "The way we live and act contributes to the downfall or rising of many!" (words of Fr Kentenich while in prison). Through prayer and bearing our own share of suffering, we can support others and help to lessen their share of the Cross.
In today's world there is little evidence of people, countries and communities "supporting and protect-ing" one another. We too are often so wrapped up in our own little world. Often, we fail to reach out to the 'stranger' the 'other' even the 'criminal' who is in need of our prayerful support. We don't know their mystery, their history or motives for their actions, but the Lord does!  They are all our brothers and sisters. Naturally we must pray too for the victims and their families. Unlike Cain who told God he was not his brother's keeper, we ARE responsible for one another. We should protect and support every human being for whom Christ died.  Like Mary who was loyal to her crucified Son and became our Mother through her intense suffering, we too are asked to bear our share of the Cross so that we can bring forth rich fruit for the salvation of souls. This will only happen when we realise, we are all 'bound up together in Christ' and inter-dependent on each other. Through the example and teaching of his own life, Father Kentenich showed us how to become inwardly free, joyful followers of Christ who learn to regard the Cross as our greatest treasure.

Celebrating Holy Mass
Holy Mass was celebrated by Father Peter-John Pearson, who has the knack of capturing the spirit of the day and the full attention of the congregation.  His sermon convinced his listeners that whatever situation they find themselves in, God is always greater than their pain, their anxiety, their loneliness or whatever weighs them down. He encouraged them to be like Caleb whom we read about in the Book of Numbers (Ch 13.14). Although the Israelites were small in number and stature, Caleb was convinced that because God was on their side, they could conquer the 'giants' he and others had seen in the 'promised land'.  Father encouraged all of us to be like Caleb as we become more and more convinced that God is on our side and is greater than any 'giant' of pain, anxiety, loneliness, frightening diagnosis or other form of suffering  we are called to bear. In his words: "God is always greater than the 'giant' within you".  By the sounds of the increasing choruses of "Amen" it seems that his words found a resounding home in everyone's heart.
Immediately after Holy Mass, Father Peter John and Father Emanuel, the parish priest of Wynberg proceeded to move through the rows of people to anoint them with holy oil.  With the humming of hymns to background music, a beautiful atmosphere of prayer and joy-filled gratitude was created. The same Lord who healed so many during his life-time on earth was 'tangibly' present in our midst.
Sharing Talents
Then came the served lunch!  While some people had brought their own food, the majority sat down to a well-prepared tasty meal.  There was a great 'buzz' at each table. No doubt, the different types of 'giants' we carry around with us were discussed. Fortunately, as Father Peter-John told us, God's power and presence in our lives is much greater than any 'giant' we may have to contend with in our lives.
Some people returned home for their afternoon nap while a good number who had gone to visit Our Lady in her beautiful Shrine, returned to the hall to be entertained. It was a real treat to enjoy the brilliant talent of a 21-year old young man called Seth, who is South Africa's No. 1 beat-boxer. He is the grandson of Jean and Ralph de Smidt, a well-known Schoenstatt couple.  Despite valiant efforts, none of us could imitate this obviously well-practised movement of the mouth and throat which produces the most unusual sounds, something like a full-blown orchestra! Thank you, Seth, for giving us such joy.  We hope to see you again and wish you well for the future!
Once again, God, our Mother Thrice Admirable and Queen of Schoenstatt together with our founder, Father Joseph Kentenich, glorified themselves with the help of so many willing helpers and the co-operation of all who attended the Day. God bless you all, especially those who supported the Day with their prayers, suffering and sacrifices! Yes, we are all responsible for one another – we are all bound together in Christ and in the heart of His Mother. Let us rejoice in this beautiful truth!