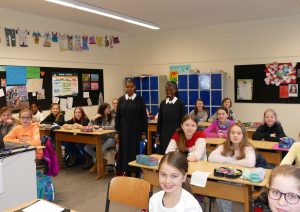 Sr. Mariette Niyonsaba and Sr. M. Yvonne Niragira are from Burundi.
In 2017 they came to Schoenstatt for their final acceptance into our community. They then learned the German language at the Akademie Klausenhof.
Today they work in the mission headquarters and in the mother house. They tell us about an invitation to the Schoenstatt Marienschule in Vallendar.
How is it that students of the Marienschule have invited you?
For many years, there has been a Burundi-AG among the students, who maintains contact with the ÉTG – École Technique de Gestion -, the partner school in Mutumba / Burundi. Sr. Mariette attended this school for three years. Therefore, the students invited us to speak about the ÉTG and our homeland in three classes.
You gladly accepted this invitation …
Yes, we are very happy that young people in Germany have so much interest in Burundi. It was a great opportunity for us to meet German girls – especially to thank them for their commitment. That was very important to us!
What are the students doing concretely for their partner school?
They have already started many actions for the ÉTG in Mutumba and generously supported them. A few years ago there was a peace race for Burundi, but they also organize actions such as weekly cake sales or occasional ice cream and waffle sales in the schoolyard. They are very inventive in it!
The ÉTG is at the same time a boarding school and the pupils have to be protected there at night as well. Finally, a wall could be built around the school grounds by donations from the Marienschule. The girls are very thankful for that and feel safe now.
What questions did the students have for you?
For example, they were interested in whether the students in Burundi liked to go to school. – Yes, they do, even if they have a long way to school. They are very interested in learning and are disciplined in the classroom.
Unfortunately, going to school for some families is initially a financial problem. That's why we support needy children with tuition and materials.
The girls from the Marienschule also asked us who was cleaning the school in Burundi, and they were surprised that the students did it themselves. This is normal for us …
What impressed you most?
The students welcomed us warmly and listened carefully. We could feel that it is a Marian school. It has impressed us that young people are so energetically engaged with others who live far away in another continent. We were happy that they invited us to come back on another occasion!