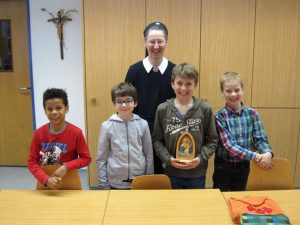 I have to struggle with myself to go into the religion class. But I have been doing it for several years now – because of the children and the Pilgrim Mother. I tell them that I bring an "important" visitor. This interests the children. Many like to have visitors. The visitor is: Mary and her son Jesus!
Welcome, take a seat!
They want to know how that works when the Pilgrim Mother even comes home to them, to their room, to their bedroom. They think about where they put the picture and what they will do then. We practice this in the classroom. The children take the picture of Mary of Schoenstatt out of the backpack. They set it up and light a candle. I ask, "What do you want to say to Mary?" "Welcome!" "Take a seat!" "Please help me at home and at school." – "Sometimes I'm scared when I'm alone." "Thank you for all the beautiful things I'm experiencing." "Come and play with me. Look what I'm doing! " "Help me, that I can be nice."
You are special
It is very touching for me when I go to every child with the image of Mary. I call his/her name and say what Mary tells him/her personally. The children are full of anticipation and radiate when they hear, "I like you! How you are!" "I like you very much!" "You are special!" "You may be the child of God the Father." "You're a royal child!" "I'm with you and make you strong." "Glad it's you!"
Are you happy to be a sister?
Before I go home, the children are allowed to ask questions about the life of a sister. Quickly, fingers go up: "How long have you been in the convent?" "When do you wake up in the morning?" "Do you have to pray a lot?" "What do you do all day?" "You wear a ring! Then you're married?" What does that thing on your head say?" "Why are you wearing a veil?" "Did your mother have 40 children?" (Because I said we're 40 sisters). Here and there comes the question: "Do you like being a sister?" I can affirm that with complete conviction and I think the children believe me.
Experiences of children with the Pilgrim Mother:
"I had a very nice week when Mary was with me." K.
"I place the pilgrim shrine on my desk on a beautiful cloth decorated with stones.
So, Our Lady is close while doing homework." R.
"I spend time with Mary when she's visiting. In the morning she is already there and looks at me lovingly.
I get up quickly and ask her, for example: Help me with the exam today." J.
"When I am sad, Our Lady is just there and comforts me." P.
"When Mary is here, I do not have to sleep alone and I'm not afraid anymore." T.
"I told Our Lady that something went wrong and then I felt better." A.
"I can easily feel how Mary is close to me." F.