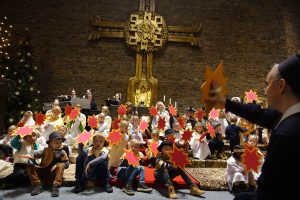 For two and a half years I have been working in the Pilgrim Center in Schoenstatt, and one of the most beautiful events of the year is the "10 Minutes at the Crib". For years, it has been known in the region and beyond that this event gives families a nice Christmas experience. We sisters work hand in hand with many helpers.
The "10 Minutes at the Crib" are still, after 21 years, a "perennial favorite" during the Christmas season. Around 7800 visitors filled the Adoration Church on Mount Schoenstatt this year in the fourteen days after Christmas. The joy and gratitude are great and many say: "That was nice again – like every year! Thank you for putting forth so much effort! "
Sometimes an hour before the beginning, children come who want to be first for a special role. Often it is about being able to play Mary. Shortly before the "10 Minutes at the Crib", sometimes up to 80 children sit ready to participate in the celebration as Mary and Joseph, as shepherds, angels, little stars, as sheep and as kings. The role of the shepherds was especially emphasized in the celebration this year. It was particularly to the poor and marginalized of society that God proclaimed through the angels: "You are important to me. I want to be with you!
"I'm happy to be able to sing with my heart's content with the old Christmas carols," says an elderly gentleman. At each celebration the song "Kling, bells, go klinge linge ling" is sung, because with this song the ringing of the bells is the most fun for both the children and the adults. And when on the last day only one child arrives, bravely waving his hand in front with a hand star, the hand stars are handed out to the participants in the church and a good 30 mums and dads, grandmothers and grandfathers, wave back with the hand star. "It's just awesome how you involve the children here," says a young dad.
The participation of the children,
– the singing of the songs with the beautiful musical accompaniment,
– the elaborately designed beautiful nativity scene,
– the inscription on the star papers with names and concerns entrusted to God,
– the "good word for the New Year" by Father Kentenich, taken by participants at his tomb and
– the end of the afternoon with tea and pastries in the former stable building –
these are all components that make the "10 Minutes at the crib" so appealing.
A couple admits: "We were there six times this year – and we'll be back!"