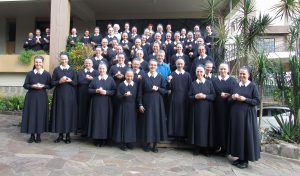 The end of the year is an opportunity for many families to meet. Children who study and live far away visit the parents. The joy of children who want to show their Christmas gifts to everyone fills the house. It is the time to look back over the past few months and look forward to the New Year with hope.
At the end of the year, the sisters gathered in Brazil as a family. Many of the sisters who work in northeastern Brazil and in the various dioceses of the south were able to come to a schooling day held at the movement house in the shadow of the Tabor shrine in Santa Maria.
"Such meetings are very important for a community like ours, which sees itself as a big family. Together, young and older sisters were pleased to be able to relive the jubilee celebration of the 50th anniversary of the death of our founder, Father Joseph Kentenich, and to start preparing for the 100th anniversary of our institute in 2026, "explains Sister M. Lillian Goerck, who coordinated the course of the meeting.
The beginning of 2019, the first in preparation for the Anniversary of the Sisters of Mary, is a special year for us: for we also look forward to the anniversary of the coronation 70 years ago in the Tabor Shrine, where Father Kentenich named the Mother Thrice Admirable as the Queen of Heroic Childlikeness.
Sr. M. Rosangela concluded, "With unshakeable confidence in the Mother and Queen, we are approaching the challenges and graces that God wants to give us and are thus setting out to celebrate the centenary of the founding of our institute."