Vocational Testimony Sister M. Lucijane Goering
You have not chosen me, but I have chosen you and appointed you to go and bear fruit and that your fruit remain. Then the Father will give you everything you ask in my name. (John 15:16)
I am from Wittenberg the city of Luther. There were two filiations of the Schoenstatt Sisters of Mary in that city: a small filiation with the sisters who worked in the parish as parish helper, as educator, as nurse and in the parish office, and a large sisters' filiation with many sisters who worked in the clinic Bosse, a women's and maternity clinic. In this clinic, my five siblings and I were born. The first person who welcomed me kindly into this world was a Schoenstatt Sister of Mary. I suspect that sister was praying for my vocation right away.
It was a special experience for me when we girls made a trip to Friedrichroda in the Thuringian Forest for the first time with our parish helper, a Sister of Mary. The Schoenstatt Shrine there was the only one in the territory of the former German Democratic Republic (GDR). The shrine there touched me. I felt right at home there.
I have made the Covenant of Love with the Blessed Mother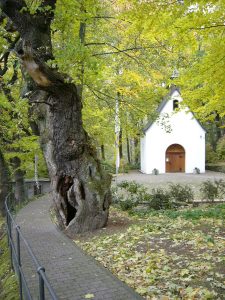 Later, I often went with my girlfriend to girls' meetings and retreats in Friedrichroda. I made the covenant of love with the Blessed Mother and, as a young person, made my consecration of Mary and actively engaged in the Schoenstatt Girls' Youth. The ideal to become like Mary and to carry Christ into the world had touched me, and it determined my life. It gave me strength to stand courageously and testify to my faith and Christian values, and therefore not to make false compromises. For example, participation in the so-called "Youth Dedication" – a commitment to the GDR and its ideology. In the days of the GDR, it had serious consequences for vocational training opportunities, if this participation was rejected. I was proud to be Catholic.
I was able to get involved in many areas of our community. After school, I began training as a nurse and pediatric nurse at the Catholic "Barbara Hospital" in Halle.
At that time, my sister, who was three years older had her reception as Sister M. Therese into the community of the Schoenstatt Sisters of Mary in Friedrichroda. After the impressive and beautiful reception ceremony, I asked my parents if they would like to have such a nice day again next year. They did not want it, that is, not yet next year. I should finish my education. That was my inner struggle, too.
On the one hand, I also wanted to finish my apprenticeship, and on the other hand, I also felt a yearning to give my life to God already. In addition, my friend had already submitted her papers for the upcoming postulancy. During this time a priest told me about a difficult decision that Father Joseph Kentenich, the father and founder of the international Schoenstatt Movement, had to make in Koblenz Prison. He chose the more difficult way in freedom because he recognized the will of God in it.
Like the Mother of God, he also wanted to say his Fiat to the will of God. – I asked Father Kentenich to help me.
I then submitted my papers quite freely and gladly for the next postulancy. God did not let himself be outdone in generosity.
I was able to experience that – similar to the Fiat of the Blessed Mother – the dear God works salvation through the yes of a person and gives blessing.
My parents had the pleasure of being able to celebrate another reception celebration in Friedrichroda next year. And they were really happy too. They never would have denied one of their children to God. For that and for their loyalty I am very grateful to my parents.

I want to pass on what I have been given
I have received a new family, in which I know I am cared for and secure; where I have my place. I have been given many noble, generously striving co-sisters. I received much more than I left. God cannot be outdone in magnanimity. For 38 years, as a Schoenstatt sister of Mary, I have been able to give my life to God and the Blessed Mother and serve the Schoenstatt Work. It is a great pleasure for me to do this as a parish helper. I want to pass on to the children what I have been given: the gift of faith in God and the joy of living His life in Christ. I am happy to be a Schoenstatt Sister of Mary. Thankfully, I confess with the words of the Mother of God:
My soul praises the greatness of the Lord, and my spirit rejoices in God, my Savior … (Lk 1, 46 -48)
 

 Sister M. Lucijane gave this testimony on the Kerbschen Berg in Dingelstädt / Eichsfeld, Germany during the annual Lenten sermon 2018