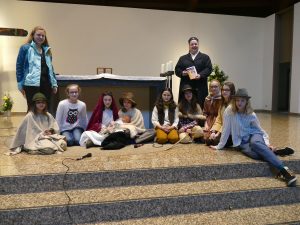 Under this theme, the Pilgrims' Center in Schoenstatt offered two Reflection Afternoons in the week before the first Sunday of Advent. Several bus groups from Koblenz, from the Westerwald and the Eifel and many other visitors had registered again for the events that have been taking place in Schoenstatt for many years.
A special program item this year was the performance of the play "Da Doors Open" in the Pilgrim Church by pupils of class 6d of the Schoenstatt Marienschule.
Closed and open doors
 2000 years ago, Mary and Joseph had to experience very clearly how the gates of the hostels were closed to them. They find out: God always keeps an open door ready.
The modern piece, written and set to music by Wilfried Röhrig, encourages people to pay attention to God's open doors and to be an open door to God's love. The contemporary songs between the scenes made you think.
That the message had been well received was shown by the great applause that those present gave to the girls.
I am grateful that I was allowed to play the role of Mary. It's a special experience to be immersed in such an important story," says Maya A. after the play.
After a prayer in the Original Shrine, there was an impulse from Sister M. Doriett Möllenkamp. She picked up the topic and showed ways how to open the door of our heart to God and our fellow human beings. The model for this is the Blessed Mother. Through her yes, God became man in Christ.
"This day is always very memorable for us," says a woman while drinking coffee. Already on the way to the dining room, she had exchanged a lot of what she heard with her mother. Both come to Schoenstatt every year on the reflection days.
At the end of the afternoon, the participants celebrated a Holy Mass in the house chapel of the pilgrims' house. Father Herter, pilgrimage director in Schoenstatt, made it clear in his sermon how God keeps opening doors in life and encouraged the people to perceive the signs of God.
As a souvenir of this day in Schoenstatt, the pilgrims took with them a card of the Original Shrine in Schoenstatt.
 Also next year again!
 "For over 40 years, I come to the days of reflection and I always go home gifted," said a woman at the farewell. "God willing, I'll be there again next year."