Interview in Radio Maria
Zagreb, Croatia, Oct. 20, 2018
Sister Ramona, why do you belong to the Schoenstatt Family? What fascinates you about Schoenstatt?
This question makes me very happy and I could list many things that fascinate me about Schoenstatt. I want to pick three things:
♦   I belong to the Schoenstatt Family because I find it wonderful to fill the pitcher in our Schoenstatt Shrine with what everyday life asks and demands of us, but also makes it beautiful. And that makes my life happy because I know the Blessed Mother along with her Son is accepting these contributions and using them and myself to make the world a little bit better, fairer, more beautiful, more peaceful, and happier. Make everything a gift, put everything in the pitcher, then life becomes more carefree and easier. And at the same time my contributions help other people on their way. Mary, nothing without you, but nothing without me!
♦   I belong to the Schoenstatt Family, because I want to be more human, genuinely human, authentic, whole and healthy. My catchword, what fascinates me in Schoenstatt, is: Everyday Sanctity. To be faithful in the little things and to do everything with love, to have big goals and at the same time be able   to fall down and be small. And be able to start afresh every day, without having a bad conscience.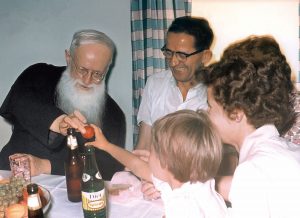 I would like to thank Father Kentenich, who has given me a new perspective in Schoenstatt to live more intensely, to consciously perceive the small things behind which I can discover the love of God for me.
♦   I belong to the Schoenstatt Family, because here, through our founder, Father Kentenich, I have experienced and learned to see myself worthwhile in the shrine of my heart and to deal with it accordingly; to have my center there; to be able to be at home there with myself and with God and to rest, and also to give a home to many others. My heart – your shrine — A wonderful reality.
Sister Ramona, how long have you been a Schoenstatt sister to Mary?
 25 years. Exactly on September5, 1993 was my reception. In two years' time, I can celebrate the Silver Jubilee of official incorporation into our Sisters family with my course sisters who had their reception with me.
What do you say about the new Schoenstatt Shrine in Ivanovci, north-east Croatia?
I am glad that the Blessed Mother has found a new place to work as a mother and educator. When many are gifted by her there and sent, a new world can emerge around the new shrine, a Marienland: a kingdom of purity, a kingdom of joy, a kingdom of love, a kingdom of freedom, a kingdom of truth and Justice, a realm of fighting and confidence in victory, as Father Kentenich describes it in the so-called Home Song.
I would also like to take the opportunity to thank all those who have sacrificed so much for this shrine in recent years. And I would like to sincerely thank all those who made sure that the shrine was built, that items were purchased or donated, and that helped bring about such a blessed dedication day.
Surely you also long for the shrine to be visited by many people in the future?
 Yes, of course, and the Blessed Mother should work very much from here.
♦   I wish that many would find a home in this new shrine and support and guidance for their lives, that they would personally experience being seen and valued by the Blessed Mother.
♦   I wish that here many people experience the grace of transformation: a new beginning for their lives that heals inner wounds and that through the encounter with the shrine something better develops for them in their personal lives and in their everyday life.
♦   I wish that in the new shrine many apostles will grow, who will be filled with mission zeal and who will build a new world in which everything happens out of love, through love, for love, for eternal love, as our founder puts it.
The day of the dedication, the 15th of September, just over a month ago, was a very special day for the international Schoenstatt Family, the 50th anniversary of the death of the founder, Father Joseph Kentenich. What do you personally associate with this date?
I am very happy about this dedication date. September 15th is an important day for me personally. That's why I was a little sad that I could not be in Schoenstatt that day at the big international celebration there.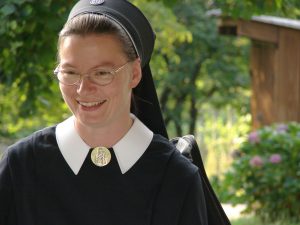 My relationship with September 15 goes back to the beginnings of my sister's life.  My reception day was on September 5, 1993, and ten days later, as a course of young sisters, we celebrated the 25th anniversary of the death of our father and founder.
As Sisters' family, we had a ceremony in the morning at 5.00 o'clock in our Adoration Church, near the Founder's Chapel, where our Founder is buried. What I experienced on this September 15, 1993 was the immersion into a large sisters community. Many were there, everything was filled. I suddenly felt that I belonged to a large family that is at home all over the world and is now gathering around the founder. And I'm one of them and right in the middle.
It was always spoken of as a holy hour, as a sacred, historical hour and as a holy place. I also felt this, close to God. In connection with this, the talk of the divine inbreak in the celebration has always moved me deeply. God has arranged everything that happened on September 15, 1968, and how it happened. That really impressed me, how God's providence directs and plans everything exactly.
Divine inbreak, holy hour, holy place. How, then, did Divine Providence direct everything at the founder's death? What was special about it?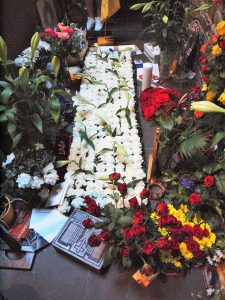 His day of dying was a Sunday, as well as a Marian feastday, the Feast of Mary's Seven Sorrows. Our Founder died right after Holy Mass in the sacristy, not sooner or later. Two priests were present and could support him when he suddenly fell forward and they could lay him on the ground. One of these priests was even from Croatia. Father Kentenich died in the midst of his Schoenstatt Family, represented by the many sisters who were there on the nameday of their Provincial Superior.
 What message did you draw for yourself from the 15th of September?
It became clear to me that our founder lives on and wants to continue in his Schoenstatt family and wants to use me for this. A motto of the Schoenstatt Girls' Youth, to which I belonged as a teenager and which has accompanied me since my youth, suddenly became even more profound: "Schoenstatt , love it and just pass it on." Since September 15, 1993, I would rewrite this slogan: How Our Father and Founder Lived, How He Loved and Just Passes Him On.
So I hope and wish that our new shrine, which was dedicated on this very important day, makes our Founder especially experiential and effective, and that there many people also become aware of him and experience him as a spiritual father.