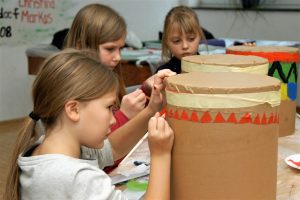 That's what Jesus said to Peter once. This was the focus of the
Ecumenical Children's Bible Day
held by the Catholic pastoral unit Grünsfeld-Wittighausen and the Protestant parish. Around 100 children met to get to know the first apostle with Sister Annemarai Eberhard and a team of about 30 helpers.
Peter is a bit like us
He is sometimes enthusiastic, but then really sad. He usually only understands half of what Jesus tells him. Sometimes he makes a lot of wind, is a real big mouth. But once he is really cowardly. The biblical story of Peter, the first apostle, formed the basis and framework of the Children's Bible Day. Sister Annemarai had prepared this with a team of about 30 helpers.
The Children's Bible Day oriented itself in its design and execution on the "religious children's weeks". These originate from the eastern dioceses at the time of the GDR and are considered today as a catechetical offer to the parishes. For the first time in 1961 they were carried out under the motto "We are children of God". In the meantime, they are also a popular ecumenical cooperation project in working with children and youth in the western federal states, and they are very popular.
Encourage children to trust in God's closeness.
"The idea of ​​the Children's Bible Day is to introduce a religious theme to children between the ages of 6 and 13 in mixed-age groups under the guidance of adults or youth leaders," Sister Annemarai said. She and her team had a particular concern to involve children's lifestyles in a variety of ways through play, music, action and group work. "The goal was to encourage children to speak about their faith, encouraging them to trust God's nearness."
The Children's Bible Day therefore had a play and creative workshops. Some teenagers recreated scenes from the New Testament. The biblical story provided stimuli for subsequent group lessons. Then it was time for a craft project. With great attention to detail and great creativity, the children made drums.
A model of ecumenical cooperation
The various actions were very well received by the children. Sister Annemarai was pleased with the harmonious process and called the Children's Bible Day a "model of ecumenical cooperation". Together they have put together a varied program. On the one hand, the entertainment aspect was not neglected, but on the other hand serious issues were also addressed. "Fear, security, anger and hope are basic human experiences," she emphasized. But even more important was this realization: "The children, just like Peter, realized that we can trust God completely."
The Children's Bible Day ended in the evening in a short prayer in the parish church of St. Peter and Paul. One last scene showed again Peter, who let himself be inspired by Jesus. The spectacular finale was the appearance of the Franconian heralds from Kützbrunn. The children's drum insert was the noisy and loud proof of the enthusiasm that the Children's Bibles Day aroused among all those involved.