As Schoenstatt Sisters of Mary at the annual conference of the Women and Mothers of the Schoenstatt Movement
 For more than 25 years I have been working as an inspiring force in the Women and Mothers branch of the Schoenstatt Movement, Diocese of Rottenburg-Stuttgart. That's a good two thirds of my life as a Schoenstatt Sister of Mary. For me, my work with the women and mothers is a mutual give and take, a gift given and a gift received.
Learn from each other
Keep an eye on the goal and at the same time be patient when the way there is usually not the shortest. Allow current plans to be disrupted – for the sake of the community, the needs of an individual. Let others grow up and enjoy their achievements without jealousy. Step back in favor of others, without giving up. Keep both the whole and the individual in view. I have learned this and many other things from the women and mothers.
That fills me, I benefit from it – also for my life in the community. It also makes it possible for me, through my work in this branch of the Movement, to help women appreciate their womanhood and to give impulses for a life of Schoenstatt spirituality and for marriage and family life.
It is a special pleasure for me to see how women assume responsibility for the Schoenstatt Movement in their own diocese and beyond.
This becomes particularly clear in the annual conference of diocesan leaders. And I experienced that again in October of this year.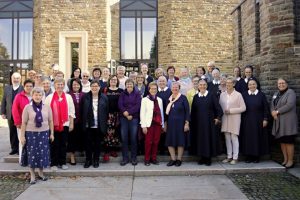 "Together with each other as apostles." – This is how a participant summarized the entire conference. In the course of the conference, the circle of women gathered this experience in the motto for the new Schoenstatt Year: "You are effective".
You are effective
This short, concise motto stands for 'apostles-time' and 'apostleship' – terms that have resounded and gained meaning during this annual conference; Terms that have also been filled by the October meeting of the German Schoenstatt movement, which was integrated into the annual conference.
As "Marketing with plus" Viviane M. described being an apostle – and thus the new year's motto. The plus for them is "the Holy Spirit, the Covenant of Love with Mary and the 'I go with Father Kentenich".
 "I am urged this year especially to give on what has been given to me," acknowledged Andrea E. She is 'captivated' by seeing and appropriately applying the "being an apostle in union with our specific femininity."
For me as a Sister of Mary it is a joy to work with the women in this capacity and to experience every day how good it is to work from woman to woman.