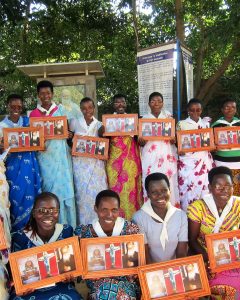 At least thirteen camps for girls are offered each year by Sr. M. Fabiola and Sr. M. Consolate in Burundi, Africa. They are courageous. Their wish: " As little tools in Father Kentenich's hand, carry into the future, his person and mission in Africa." When 187 girls come to a camp, the number is not extremely large there, but in the normal framework!
Dancing, drumming and singing
An overflowing joy is noticeable in the days of the camp. The girls join in with enthusiasm. All goes back and forth  in a lively way. The girls appreciate the lively exchange with the Sisters of Mary. One of them says, "Thank you, Sister, for telling us how Father Kentenich bore the cross and suffering; that helps me to endure my difficulties." – There is a lot of dancing, drumming and singing in the breaks. When preparing vegetables and rice together they often tell about what moves them in life, how they work as a Schoenstatt movement in the parish, what good deeds they organize, etc.
 Father Kentenich helps in Africa
The girls come to hear a lot from Father Kentenich. They want to re-decide to be his witnesses. On the first evening there is a "testimonial round". The young people talk about their experiences with Father Kentenich. The nine-day prayer "I go to Father Kentenich" is very popular in Burundi, and not just among children. It brings forth many fruits! Yes, Father Kentenich also helps in Africa: The girls and young women study with him better and stay calm during periods of exams. They trust in him – even in family and financial needs. "I have repeatedly taken courage in my illness. I thought that Father Kentenich did not have an easy life either. He encouraged me to give everything into the capital of grace so that others receive graces," says a sick girl. – The girls are also interested in how Josef Engling (1898-1918) lived everyday sanctity. They want to know how he allowed himself to be guided by Father Kentenich and was able to remain true to the Covenant of Love in difficult situations. "I am glad that we learn how to educate ourselves, not to be mass people," says one of the girls.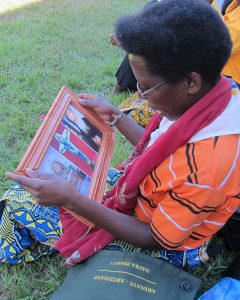 Apostle of the Covenant of Love
In the prayer times the young people draw new strength for their not always easy everyday life. The highlight of the camp is the Holy Mass, in which about 40 girls each make the Covenant of Love with the MTA. 20 girls have their long-mastered home shrine blessed. Determined, they go on the hand of Father Kentenich back into their everyday life. There they want to be apostles of the Covenant of Love. They testify that: "I have experienced how the MTA has protected me through the Covenant of Love."