"Father Kentenich, who are you?"
This question moves many people to seek the traces of Schoenstatt's founder. The mystery of his person and his mission, his father charisma and his sensitive pedagogy invite one to a personal meeting with him. Then as today, this path leads many people to the Schulungsheim on Mount Schoenstatt.
The Father house
Father Kentenich lived in the Schulungsheim for the last three years after his return to Schoenstatt. From here he headed his now internationally widespread foundation. For the over 80-year-old, he handled an amazing amount of work every day. Almost continuously, he received visitors, dictated and wrote letters, wrote speeches, heard confessions, gave lectures. Asked by a visitor if he would find time to pray, Father Kentenich replied, "I constantly pray to the Savior in the hearts of those who come to me." Those who met him felt that all times he was coming directly from God, he radiated such peace and being at home in the Divine. And the one who opened himself to him, he took into his intimate relationship with the Blessed Mother and the Triune God, whom he made tangible in his person in such a warm and human manner.

Place of Father encounter
For the entire Schoenstatt family, the Schulungsheim became the "Father's house", the meeting place with Father Kentenich as a father. And from far beyond Schoenstatt, many people came to his home: families, students, priests and bishops, young people and adults visited him there. They sought his advice or entrusted their concerns to him. And Father Kentenich gave his benevolent interest to all who came to him. They experienced in him a father who accepts and understands them, who also devotes his undivided attention to their seemingly so small concerns. He takes part in their worries, is happy with them and can laugh with them.
A Chilean professor tells of his meeting with Father Kentenich:
"First and foremost, he was a model of genuine humanity, even from a purely natural point of view. (…) 1966, when I waited a few minutes with PH in the visiting room for Father, impatient and expecting that someone would lead us to him, to my surprise, he came to us. Smiling, with outstretched hands he came toward us and greeted us warmly. He was completely fatherly. One felt deeply at home with him. I thought it would only be a brief encounter, since he was tired and exhausted from a day's work with diverse and responsible tasks. But it took much longer than planned … Before I said goodbye, he went into the next room and brought gifts. Some rosaries – "that is for the soul" – and with the words: "This is for the body" a bottle of Rhine wine. We were allowed to take pictures. Then he accompanied us to the door and waved after us for a long time. "

He did not leave
On September 15, 1968, the Heavenly Father called the founder of Schoenstatt home to eternity. Immediately after his first Holy Mass in the newly built Holy Trinity Church on Mount Schoenstatt, Father Kentenich died quietly and simply in the sacristy. But even in the moments shortly after his death the countless visitors who came to his coffin experienced: "He has not left us". He carries on his Schoenstatt work from above. He remains the father of many people, of all peoples and nations who even today turn to him with their concerns and whom he remains close to from heaven with his blessing. Anyone looking for an encounter with him can experience it today in a new, supernatural way – not least in the "Father's House". In the many places where he works, his spirit and his closeness are perpetually experiential; his apartment, the visiting room, the chapel, the garden, the famous square under his window, from which he presented many with sweet surprises and blessings, the Schoenstatt shrine next to the house and other places invite you to pray and meet Father Kentenich. Visitors, pilgrimage groups, overnight guests and members of the Schoenstatt Movement visit him there, so that one can think that today he has nothing less to do than during his lifetime. He is there for anyone who seeks to meet him.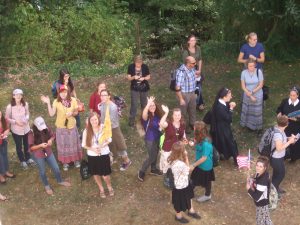 "Father Kentenich, who are you?" The founder of Schoenstatt invites us to an encounter with him in the "Father's House".
His door is open – now as then.