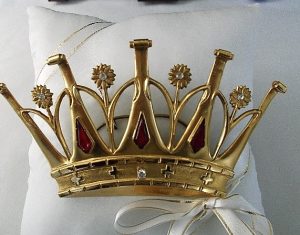 With his call into eternity, Father Kentenich has fulfilled his promise to come "from heaven" to us, to Australia in the Far East. For 50 years this promise has accompanied us.
In gratitude for his guidance, the Schoenstatt Family in Western Australia has decided to add a diamond to the crown of the Blessed Mother in the shrine on the golden anniversary of his departure as
a sign of our Father's abiding presence.
During the nine-month preparation, everyone tried to become more aware of his presence. One group was to try to live according to his virtues – brilliant as a diamond – compassionate love, joy, humility, goodness, loyalty, devotion to God, purity, truthfulness, and generosity. This striving was innovative and created a climate of joy and mutual benevolence. Other groups studied biographical texts about Father Kentenich and were inspired to draw him more deeply in their everyday lives.
The precious diamond, donated by a couple, was placed in the crown, which the emeritus Archbishop Hickey presented anew to the Mother of God in the celebration of September 15.
"When we enter the shrine from now on," a couple said, "and see the diamond, we know that Father Kentenich is there, as he so often confirmed:
'If you seek me, you will always find me in the shrine.
'The little diamond in the crown also strengthens us, knowing that his promise is a reality: I AM IN AUSTRALIA 'from heaven '.
He is there and will not leave us alone. "