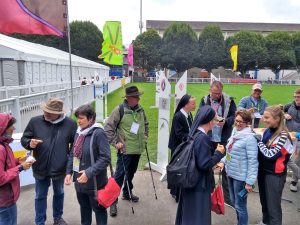 For ten years I have been working in the German Schoenstatt Family Movement with a focus on the Archdiocese of Freiburg. Our founder, Father Joseph Kentenich, says of the family, it is the
"foundation and crown"
of the church and society. As a Schoenstatt Sister of Mary I am allowed to support and strengthen this core cell of society. This is a challenging and at the same time very meaningful task within our apostolic mission for this world. In this context, we were eager to attend the World Family Meeting in Dublin, Ireland, and to witness to our Christian family image together with the international Schoenstatt Family Movement.
Together with ten German families and about 170 people from the international Schoenstatt Movement, we were contributors and participants in this great church event in Dublin.
The strongest experience for me these days was that the Church and this country need the testimony of happy and vibrant families and of sisters and priests who live their vocation with joy and conviction.
We are what we are
 The beliefs and testimonies of the families impressed me very much. But they also strengthened my conviction: what Mary, the mother of Jesus, did for the family – in silent prayer in Nazareth, in active commitment to her cousin Elisabeth, in the deep maternal understanding of the Son of God – all of us can and should do, live and pass on as Sisters of the Mother of God.
We are what we are because God called us to do so. The vocation to live completely and with inner commitment was an experience that brought great joy during these days. "We stick together," we stand together, someone said. That feels good.
We stick together!
 There were many encounters in Dublin. No matter if we walked the streets to get to our next destination, a snack in the pub or directly to the events – we were approached again and again. The conversation with us sisters was sought after. We were allowed to be a sign of faith for the Church and also for the Pope. And that was good, often even encouraging.
All this made me even more aware that our faith, lived authentically, is a great response to the many sufferings and insecurity in our society. And how good that we do not have to fight alone, but that it is true: "We stick together!"