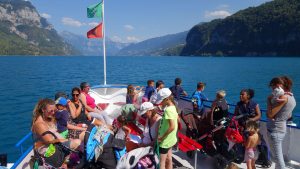 "Do you wear it even when you are sleeping?" asks the eleven-year-old, pointing to my veil with a barely outstretched finger. "What do you think?" The girl shrugs. I respond, "Are you going to sleep with your baseball cap on your head?" We both laugh. "Of course, I take off the veil in the evening and hang it up." The children and adults of the MuKi VaKi holiday week in Quarten have many questions.
"Thank you" needs to be learned
For a week we explore together the wonderful area around the Walensee. I offer a week of vacation for mothers, children, fathers, single parents every summer in our center New-Schoenstatt Quarten. I do not know to which denomination the participants belong. But before the meal we give thanks and pray. Thanking needs to be learned and stimulated. The self-catering part includes that they cook the food together, serve the food, eat together and clean up together.
Play, discover, swim … at the Walensee
The "MuKi VaKi" team of professionals will take you with the "Heidi land Holiday Experience Discovery Set" to the playgrounds and themed trails on the Walensee. Children, mothers and even a father are on the trail of a sunken ghost ship. Everyone is looking forward to the day of swimming in the Walensee and the Heidi-path with a wonderful view of the Rhine valley.
Radiance of the shrine
Mary awakens the longing for God in the midst of everyday activities. Externally, vacations  and nature experiences are in the foreground, but the community and the contact with the religious environment touches on something deeper. This is the longing for God, which is very noticeable. Already a third participant asks after a vacation week, if she can baptize her children here. This is how these days continue. With a mother and her children, I now go on the baptismal path. If all goes well, the MuKi VaKi Holiday Week 2019 ends with the grace-filled event of a conversion and the baptism of 5 children.