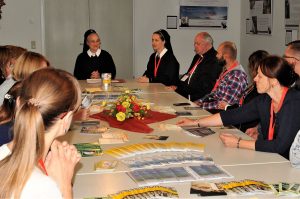 50 years ago, I was one of the young sisters who experienced Father Kentenich in person and at various events. This is an unforgettable gift from God for me! Today, as part of my work in the Father Kentenich Secretariat, I can tell various groups of visitors about these encounters and our work for his canonization process.
There are pilgrims and members of the Schoenstatt Movement from Germany and from all over the world.
Recently, a teenager asked me, "What did you get out of knowing Father Kentenich?" An important question. It is not difficult for me to answer. In him God has become tangible to me. Faith has become easier through him.
Father Kentenich works today too: sparks turn into fires
 Even today Father Kentenich lives and works. We can testify to this through the letters and phone calls that reach us here in the Secretariat. They now come from 93 countries around the world.
Here are some examples:
"I have known Father Kentenich since my childhood. My mother gave me the novena for children. I have prayed to him countless times. Even today I reach for it. He has done a lot with me. Father Kentenich accompanies me in my life. "
"I recently became acquainted with Father Kentenich. Too bad that I did not meet him in his lifetime. Now I will do everything I can to get to know him even more. "
"With the novena 'Longing for Life' I have found deeper trust (in general just to trust). Father Kentenich's words always encourage me anew when I bring my questions and problems to God.
More than ten years ago, with this novena, I took the first steps towards the teaching profession and learned to know, trust and risk.
At that time the return to my profession as a business economist was closed to me after the education phase. Over the years I have found the "vocation" to teach – a task that deeply fulfills, challenges, sometimes discourages – but then I have a backing in the prayer of the novena. "
The Kentenich year
The fiftieth anniversary of Father Kentenich's death, which we celebrate on September 15, 2018, and the associated Kentenich year, further motivates us to make his message accessible to many people.
A sister tells us that during her vacation she will invite the people of her home parish to an information evening about Father Kentenich.
She has never done such a thing. But in this Kentenich year she wants to dare it!
And from Australia this message reached us:
"You do not believe how much life the Kentenich year has awakened here in Australia. We were able to give 3000 children the novena "I go to Father Kentenich". We need more. Can you help us?"
The Father Kentenich Secretariat
Of course we could help! For now we offer information material about Father Kentenich and suggestions for prayer in 30 different languages.
Our bulletin "Impulses for Life" appears four times a year. In it, impulses from the words of Father Kentenich, testimonies of life and reports of experienced help in the most diverse areas of human life can be read.
And my experience is confirmed again and again by these testimonies of life: Faith becomes easier with Father Kentenich! Through him God becomes tangible!
For more information on the Father Kentenich Secretariat: https://www.pater-kentenich.org/en/