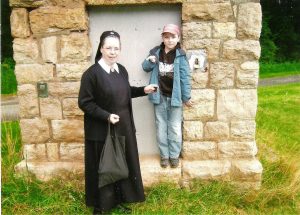 My home vacation for this year comes to an end. With the increasing age of my parents the days together become more and more precious. The contact with my brothers, the sisters-in-law and the nephew is important to me at this time. For several years, we have met at least once during this time for a common hobby, geocaching.
Geocaching is a modern form of scavenger hunt or treasure hunt. That's why I like it. Father Kentenich has always talked about the "treasure hunt" in our lives. During his visit to the Diocese of Fulda in January 1967, e.g. he motivated the local Schoenstatt Family to be
Treasure hunters, treasure diggers and treasure keepers
Equipped with a Global Positioning System (GPS) receiver and the coordinates of a "treasure" from the Internet, you can find the treasures (caches) that someone else has hidden in unusual places. It can be a target in a forest or meadow, at a guardrail, a town sign, a church wall, under a bridge, in a tree, etc. There is then usually in a container a 'log book', in which you log in with your cacher name and date. Sometimes one finds this log book in a treasure chest, from which one can take something out. The most beautiful log book I found in my new home town: A 'book' made of cotton fabric, in which one had to stitch his cacher name and date with colored embroidery thread.
If possible, a photo will be taken as proof that the cache was found.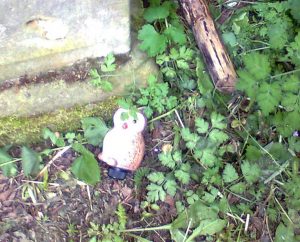 In Germany there are more than 376,530 caches and more than 3,000,000 cachers worldwide, and there are more than 3,064,507 hiding places from Alaska to the South Pole, in 222 countries. (Deadline Jan.3, 2018)
A typical family game
Due to the very different paths and goals, a person gets to know a lot of new areas, places and houses of the surroundings near and far.  It is a typical family game as co-coordinating co-ordinates and finding the right way and destination together by car, bicycle and on foot is more effective than doing it alone. Young people also enjoy using this game to do something with their parents.
Every now and then there is a meeting with another cacher at the finish. Then there will be exchanges about new and easy or hard to find caches. Thus this year we met someone at a garden fence who still had the log book in his hand. So we did not need to search, but could register directly. There was a car in front of the fence with coordinates glued to it.
Create your own caches – an exciting thing
 Creating your own caches with the associated path is also an exciting thing. And this can even arouse interest in Schoenstatt. For example, a few years ago we created two caches on the grounds of a Schoenstatt Center, for which it is necessary to find the necessary coordinates, to work on a text about the Schoenstatt Movement and about Father Kentenich. A log book is near the shrine under an imaginary measuring point. There were already very nice conversations between the seekers and the sisters of this Schoenstatt Center. Also surprised and grateful echoes to the encounters with the sisters are occasionally found on the internal Internet site, where the photos and cache results are exchanged.